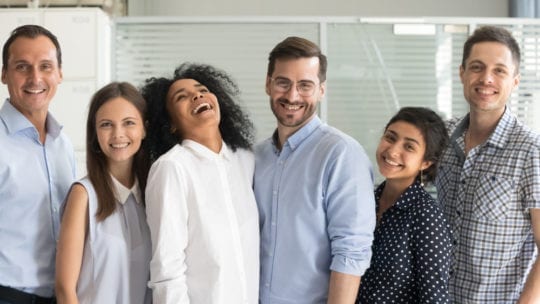 It's a concept that's been preached for years: Diversity is not only a good thing to do, it's good for business. A company that better reflects the composition of the community can reap benefits. Research from McKinsey & Company shows "companies in the top quartile for gender or racial and ethnic diversity are more likely to have financial returns above their national industry medians." Firms in the lower quartile for diversity, the research indicates, are "statistically less likely to achieve above-average returns."
For many brands and organizations, this idea seems obvious. It should be noted, though, the concept is relatively new. Not all boundaries are as yielding as others. Look at the arts. Even though the population is roughly 50 percent female, it's still a novelty to see a woman conducting an orchestra. As recently as 2013 a prominent conductor blasted maestras, saying men are better than women on the podium. It's appropriate that his sexist logic provoked an outrage. Yet in 2019, there's just one female conductor of a major symphony orchestra.
Lights, Camera, Action, Men
We'll accept the argument that some elements of the classical music world are reluctant to change. What about film? Is there an industry more dependent on current tastes and trends than Hollywood? OK, now try to name 10 female directors of major motion pictures.
Earlier this month in Variety, senior film writer Matt Donnelly characterized the employment numbers for female film directors as "appalling." This happened despite indications that Hollywood "is making progress in enlisting more female directors" — after engaging in vigorous conversations about achieving gender equality at every level of show business."
The business world still has diversity gaps. Sad to say, PR is a notable example. Women dominate in terms of numbers, yet globally, only about 30 percent of PR agency C-suites feature a woman in the top office.
Male Experts
PR's close relative, media, also has miles left to go in its diversity journey. While vast strides are evident in media talking heads, aka experts, those seen on television and quoted in publications largely are men. Last year The New York Times' Dave Leonhardt blasted himself for this in a column, "I'm Not Quoting Enough Women."
"Most major news organizations" in the U.S., Canada and U.K. "continue to feature three or four times as many men as experts or sources as they do women," Shari Graydon contends in Poynter., the blog of the Poynter Institute.
Such an imbalance, she argues, is not only bad journalism, it's bad for business. "Continuing to rely primarily on a white, male subsection of the population to offer commentary and analysis when you're trying to engage culturally diverse audiences that are 50 percent female? That hasn't made sense for decades," she writes.
PR Pros Can Help 
Correcting this imbalance could help propel sagging media revenues, she argues. Bloomberg, The Atlantic and the BBC have said they're attempting to use more female sources in their work. Graydon offers anecdotal examples showing media that improved the number of women sources benefitted.
PR pros can help, of course. Make sure you propose diverse sources and speakers to journalists. In addition, make it easy for media to locate diverse sources via your company's sites and online newsrooms.
Most important, instead of just saying you promote gender and cultural diversity, measure your efforts. If you're not measuring, you're just guessing. Track the sources your team provides to media and for speaking opportunities. See if they are roughly 50-50 along gender lines. If not, get to work.
Scout for and develop diverse sources in your company. Liaise with Human Resources and the C-suite to push diversity in recruiting, hiring and promotion. Similarly, incentivize PR staff to promote diverse sources and event speakers to media. If you really want to shake up the scene (and you've got a lot of job security), propose that your firm's diversity data be made available publicly.
For its part, Graydon's organization, Informed Opinions, has developed a measurement tool for media that tracks the gender of sources in Canada's media. From October through January, women's voices remained steady at about 25 percent. It's a journey.
Seth Arenstein is editor of PRNEWS. Follow him: @skarenstein