[Editor's Note: As part of a series of interviews with senior PR pros in new positions, we spoke with Emily Graham, FleishmanHillard's first chief diversity and inclusion officer. Graham's appointment in June was the first major action resulting from a diversity, equity and inclusion (DEI) plan that CEO/president John Saunders announced two days prior.
Graham will report to Saunders and J.J. Carter, COO. She'll work alongside a global DEI task force to "analyze recruitment, retention, compensation, training and development opportunities for colleagues," according to FleishmanHillard. She also will lead True Mosaic, multicultural counselors at the firm who offer DEI advice to clients, the company and the industry.
Graham has served in FleishmanHillard's leadership cabinet for two years. PRNEWS honored her as a Top Woman in PR this year. Her edited remarks are below.]
PRNEWS: PR is about 80+ percent white.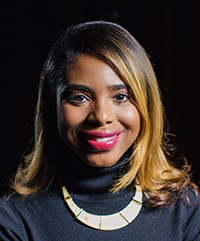 Emily Graham: I've been part of the industry nearly 15 years, and in that time I've not seen any indicators that we've made significant progress with ethnic diversity.
I believe there was a time when it was acceptable to have one or two people of color as signs of progress, or tokens. It's untenable and unacceptable in 2020.
PRNEWS: What can be done about it?
Graham: What's needed now is not performative; it's substantive.
When you look at the founder of Reddit stepping down from the board and saying, 'Replace me with a Black person,' that is immediate action and undeniable change. How many leaders of PR firms would do that upon their departure or in advance of it? That's one place we could start.
If every agency–big, mid-size and small–looks at its succession plan for leadership and ensures there is at least one person of color on track to make it into the C-suite or second tier of leadership in the next year, that is impact that makes a difference.
PRNEWS: What about timing?
Graham: It's really important that we think as much about what we're going to do in the next 12 months as we do about the next three, five or 10 years.
Urgency, insatiable drive to do better and immediate, specific actions that benefit Black and Brown talent are how we will make change. Until then, we are going to have more words that sound great and calls to action and pledges that go unanswered.
PRNEWS: John Saunders's memo discusses "changing our agency's face." What are some of the first steps you've taken to do that on the leadership level? 
Graham: The first thing I did was sit with our agency leadership and acknowledge the uncomfortable truth. If we don't know what we are facing, we can't effectively address it together. Racism and bias are human rights issues–it is personal, and we are people first.
I've connected with each of our leaders and I've heard their [personal] commitments and their commitments to FleishmanHillard. So, I know these issues matter to them beyond our walls. What use is it for leadership to commit to changing the agency, but not commit to changing society?
It's also important to note this can't be a numbers exercise; this is also about culture and belonging. The reason Black talent and people of color don't thrive in communications is not about recruiting. It's about a biased workplace, lack of mentorship, poor career pathing, limited growth opportunities and more.
PRNEWS: How do you attack those challenges?
Graham: Immediately, I've set out to address those issues– and just like racism, there's not one reason they exist, but there are multiple ways we must attack it.
We are listening to every Black and diverse employee to understand their needs, their ambitions, where we have fallen short and how we can be an agency they are proud of [working at]. That, along with our previously shared commitments, is already in action.
Perfection is the enemy of progress. We are working to make changes quickly that will be measured, scaled and benchmarked.
We want to see real progress in composition by year's end, but where we are a year from now matters critically to me too. Sustainability and continuity are both required–one speaks to depth and longevity, and the other to cadence.
PRNEWS: What does FH's rank-and-file staff look like in terms of diversity? How will it change? And how long will it take?
Graham: We have 22 percent ethnic diversity represented on our Cabinet–our executive leadership team–and more than 60 percent of our offices are women-led. In terms of additional composition, we are unable to share, given guidance from our parent company. But we are committed to more diversity at every level, in every region. DE&I is center to all we do, and all we talk about. We won't be satisfied until we see a new FleishmanHillard reflecting the world we live in.
PRNEWS: Great. What advice would you offer on DE&I to PR shops that lack the resources of FH?
Graham: No one can deny that funding is essential. But I challenge the industry to look inward, at what doesn't require money. Often what doesn't require money hinders DE&I.
I'd ask, are you treating DE&I as a strategic business imperative, critical to your bottom line and operations? Are you combatting and confronting bias and racism on purpose, in real-time in your companies? Do you know, and have you challenged, leadership's role in progress–are they all-in, or are they performative allies? Have you made DE&I progress part of their performance review and compensation strategy? And have you made it imperative in client engagements that DE&I is included, not as a multicultural month, but as a driving factor for reputation and stakeholder engagement?
Have you done the work to enable honest, uncomfortable, intentional discussions about the above? That is where we must be willing to go. Then we can be sure that our collective will is strong enough to drive needed change.
Note: A version of this content appeared in the June 2020 edition of PRNEWS. For subscription information, please visit: http://www.prnewsonline.com/about/info
Seth Arenstein is editor of PRNEWS and Crisis Insider. Follow him @skarenstein