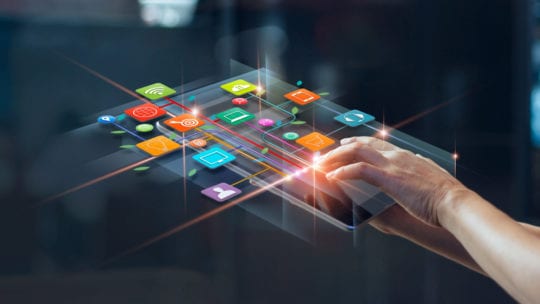 [Editor's Note: Next in our series of interviews with senior communicators we speak with Julie O'Donnell, who last month was named EVP/global head of digital at health communications and PR firm Evoke KYNE. She joined Evoke in 2017 and is based in Dublin, Ireland. Prior to that she was a senior director at Lundbeck, the multinational pharmaceutical company. We asked her about companies rapidly adding digital activities during this moment, among other things.]
PRNEWS: What a time to be named global head of digital for a health communications firm. What have you learned about digital communications during the pandemic so far?
Julie O'Donnell: Despite much talk about digital integration or multichannel strategies, many organizations – particularly in healthcare – remain overly reliant on face-to-face communication, particularly sales reps and those in events.
Those who really had cross-channel communications engrained in their business have found it easier to adapt. I think this will be a wake-up call for organizations to ensure they finally integrate digital across all business functions.
The old adage, 'Necessity is the mother of invention,' is very apparent. Digital transformation is happening overnight. Technology is not as daunting when face-to-face goes out the proverbial window.
We've always known digital provides many solutions. Now we're seeing that, with a little collaboration, digital solutions are infinite. The pandemic has simply expedited its growth.
PRNEWS: How are you counseling clients not involved with coronavirus about content and cadence?
O'Donnell: Arming yourself with data is critical. Set up monitoring dashboards, and use social listening as your guide. Understand what your audience needs, or doesn't, now.
Content and cadence will be individualized, but people increasingly are looking for non-COVID content – and new solutions – as well as hope and optimism.
We're working with clients on scenario planning for the weeks and months ahead, particularly as people's media consumption increases due to quarantining. Content calendars are being reviewed to adapt to the changing landscape. Everything needs to be viewed through this lens: Is this message a priority or appropriate right now? If not, it comes out.
PRNEWS: What do you see communicators doing poorly in digital during the pandemic?
O'Donnell: First, some of them are over-sharing. Age-old communications mistakes are amplified at times like this...Organizations think that just because something is important to them, that it will be important to their audience.
We've seen many companies broadcasting their perspective on COVID-19, and how they're managing it, via social and email. The majority perceives this as spam, unless your company is doing something truly remarkable…or sharing updates that impact service delivery and/or customers.
Second, not delivering value. Communicators need to recognize that we're in the midst of not only a pandemic but an infodemic, according to the WHO.
Misinformation and fake news are spreading faster than the virus. We're encouraging clients in the life sciences and healthcare space to consider, first and foremost, whether your content is adding value or adding to the noise. When you take that position, it's much easier to make decisions about what to focus on, or what to shy away from.
It's critical that content plans are reviewed with much higher frequency, as the landscape is shifting so quickly.
Another problem is [communicators] trying to spend their way out of the problem. Communications has seen a shift in recent years from the idea that 'content is king' to a 'money matters' mindset, with increasing focus across all industries on paid promotion.
In this COVID climate, companies need to revert to content fundamentals. They need to avoid being seen as opportunistic or promoting content that isn't of public health value.
We've seen backlash toward organizations…even those delivering thousands of masks and other equipment…because they've paid to promote the tweet announcing that fact. People would rather see all resources invested in frontline health care services right now.
PRNEWS: What are communicators doing well with digital?
O'Donnell: They're moving quickly. WHO's executive director says speed trumps perfection. You must be fast.
This is timeless advice for those organizations that aim to be leaders in their spaces. Leaders are staying in tune, through feedback and social listening, with their audiences. They are adapting content and channel strategy rapidly.
Collaboration is key. We're seeing great partnerships... strengthening messaging and supporting communities.
Authenticity is essential. These are challenging and uncertain times. It's brave to be vulnerable and empathetic. Give your company a human face…audiences consuming vast amounts of community-generated content – selfie videos on smartphones, for example – value relevance over production standards. This means there are no excuses. Communicators can create content, without production teams, remotely.
PRNEWS: Is anything happening now that might become a permanent part of digital communications after the crisis?
O'Donnell: Yes. Two things: remote working models and a mindset shift.
Businesses that never imagined having their entire organization operate remotely have shown that, not only is it possible, but it may be essential in our uncertain future. Communicators will need to use collaboration software and tools that allow communications to be managed end-to-end by anyone, working from anywhere.
In a regulated sector, many point to the need for cross-functional alignment and regulation as an excuse for sometimes defaulting to a 'tick the box' mentality, lengthy project timelines and slower adoption of new technology. The pandemic has forced people to embrace channels and tactics that were outside their comfort zones, challenging the status quo in a positive way. Teams and organizations are mobilizing quickly, collaborating virtually with aggressive timelines.
CONTACT: [email protected]