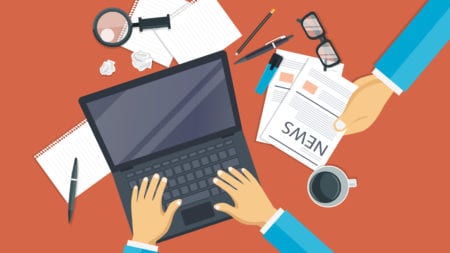 There's something to be said for structure, for generally knowing what the day is going to be bring and what is expected from you at work.
So when PRNEWS set out to chronicle a typical day in the life of a chief communications officer, we asked Rosemary Abendroth, head of communications for New York-based ad agency McGarry Bowen, to describe her sun-up to sun-down.
She chuckled.
"I was told this a long time ago, and I still practice it—get out of bed and be prepared for anything," Abendroth said. "There is no typical day in PR."
Abendroth said there are a few boilerplate tasks she tries to accomplish each day, including client campaigns to launch and track, and getting up as early as she can to start sifting through emails to be abreast of the needs of clients and colleagues in Europe. Even a 4 a.m. wake-up alarm in New York is already 9 a.m. or 10 a.m. in Europe.
She then does a media sweep of any stories involving the agency or its clients.
"A chief communications officer is here to promote the company and protect the company," she said.
Marlon LeWinter agreed.
LeWinter was the former chief communications officer for the worldwide sports apparel brand Under Armour. He later did public relations for tennis superstar Venus Williams and now serves as founder and CEO for his own PR firm, Florida-based NRGized Media.
Client services is first and foremost on his daily agenda, LeWinter said.
"I make sure to check in every day with every one of my clients," he said. "Even if I just see an article or a TV segment that I think they should read, or whether I notice new branding I think they would be interested in, I want them to know about it."
LeWinter said he looks to capitalize whenever he sees the opportunity, and it's one reason why he diligently trolls social media every day as part of his routine.
"If an athlete loves a certain energy drink, I might reach out to their people and say 'Hey I saw your client's Instagram post, how can we work together?'" he said.
Both LeWinter and Abendroth said the only long-term planning they do revolves around when client campaigns break or important events on the calendar, such as the Super Bowl or back-to-school. One of LeWinter's new clients, for instance, is Revtown, a men's jeans company founded by three former Under Armour executives.
Both PR executives said they also try to nurture their relationships with reporters on a daily basis. And that involves a deep dive not only into the type of publication— Advertising Age, for instance, despite its name is more of a marketer's publication than an agency one—but also into the nuances and style of individual reporters.
"Media monitoring is part of any chief communications officer's job," Abendroth said. "There's a lot of relationship consideration when you give an exclusive but you also have to consider what kind of story it is. I do try to spread the love around."
Abendroth said she also tries to have daily interactions with fellow employees who represent the company and client executives who represent the brand to do media training.
"I want people who I am coaching to understand that not every reporter covers things the same way as another reporter," she said.
Said LeWinter: "Any good PR person puts in the homework to understand who is writing what."
While there will always be daily tasks, what makes the job atypical and unpredictable are the usual array of fires to put out.
"Things come up," Abendroth said. "We've had people say we infringed on their idea. I've had to deal with reporters when I've read something that maybe wasn't the take we were hoping for. It is what it is and you deal with it. But that's what makes every day different."