[Editor's Note: In the last article of this five-part series created with partner PublicRelay, a media monitoring and analytics firm, we profile a trio of rising communicators who embody many of the ideas about measurement and data analytics examined in earlier articles.
The first article ( PRN, November 7, 2017) looked broadly at communications data and measurement. The second article (November 21) examined how data can be mined to offer significant operational directions to companies. The third article (December 12) reported on a forum where 12 senior PR leaders commented on the state of data and measurement. The fourth article (PRN, January 9, 2018) examined the challenges associated with reputation management.]
True, there's more data available to communicators than ever and it's likely data will grow, not decline, in the years ahead. Fear not, though, this article won't be about math nerds or numbers jockeys.
Indeed, it seems entirely fitting that the three rising communications stars who were profiled for this article embraced the idea of measuring communications data after they began their careers as PR pros and marketers.
When we interview David Chamberlin, SVP, CCO, PNC Financial Services Group, who is featured prominently in this series, and ask him to provide insight for an introduction to this article, the first thing he mentions is the need for next-generation communicators to come out of school writing well and thinking clearly. "It drives bosses crazy when people can't write. And believe it or not, some people in communications can't write well."
Chamberlin adds, "Having a well-rounded background…[and] intellectual curiosity…as well as an ability to understand and dig through various issues" is critical. In addition, knowledge of history is important, since "history repeats itself." He next mentions, "It's incredibly helpful to have the ability to read a balance sheet."
Since Chamberlin's a staunch advocate of measurement, we ask where an ability to work with data figures on his list of needs for young communicators. "The young people I'm seeing don't have a good grasp on data and analytics…so it's going to be hit or miss [if they eventually gain a good understanding of communications data]." It depends, he says, on where they end up working. "If they focus on social media, then yes, they'll have to learn analytics," he says.
With social media's rise in the past 10 years, "you hope they'd come out of communications school having a feel for the importance of analytics and…the ability to predict what's going to happen based on data and big data."
Knowing how to work with data early "will make a huge difference" in a communicator's career progress, he feels. "If they seek to be a CCO or a CMO or just a part of a marketing organization, it'll be really important for them…because so much of the job in certain places is becoming, 'Hey, what do we do with the data? How do we do it?'"
A more immediate challenge, Chamberlin says, is being able to "translate what's happening in social media and bringing it over to communications and corporate communications and applying it there." In this he echoes a point made in last week's PR News: it is critical to decide what is most important to measure ( PRN, January 23, 2018).
The Poet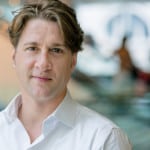 None of the educational backgrounds of our young communicators include analytics. Ethan McCarty, global head, employee & innovation communication at Bloomberg, for example, has an undergraduate degree from Ohio University in creative writing. His graduate degree from the New School for Social Research in liberal studies had him "taking classes with Christopher Hitchens and reading Marx." Ironically, McCarty recently began teaching media and analytics at Columbia University at the graduate level. "I love it," he says.
Having never studied communications, McCarty's education in analytics was obtained during a 13-year stint at IBM. He joined the company as a writer and editor after having been a journalist prior to that. McCarty credits his appreciation for communications data to working under "great managers" at IBM like Jon Iwata and Ben Edwards.
"The DNA of [IBM] is very oriented toward a data view of the world," he says. IBM, he adds, sees the world as being composed of data.
"As communicators we can seek observable phenomenon and see if we can design communications programs that work back from the desired observable things in the world, whether they are behaviors or progressions of thinking…this became part of my world view" and would lead him to data-heavy Bloomberg.
A Convert to Data
Despite his background in poetry, "I forced myself to become comfortable and fluent in data." The transition was critical. "The idea of analytics in the communications practice is so important because what we do is help shape beliefs that drive action…we can measure whether our efforts are improving outcomes, having no effect or making things worse."
Owing to the profusion of digital data, communicators can see more steps than ever along the route to that desired behavior. "These little changes we observe give us the ability to do two things: report back to management and continuously get better at what we do, because we can do more of the stuff that works and less of the things that don't work. That's what so important about it."
Data and a YouTube Channel
The communications team at Bloomberg lacked an outlet for video it had shot showing the quality of work life at the company. A few years back the team created a YouTube channel called Inside Bloomberg.
"One of the first things we did was for every video that was on the channel we put a bit.ly link that directed interested viewers to open job positions in the company," he says. For example, a video about the company's philanthropic work in Singapore had a link to open positions in Bloomberg's Singapore office.
Now with more than 7,000 subs, the channel has resulted in numerous new employees. "We've used these data to show how we reduce cost in recruiting and maybe attract candidates that we otherwise wouldn't have found," he says.
Through measurement "we've been able to get a better sense of what's actually playing (well) for this audience. That's influenced how we produce [these in-house] videos. The quality gets better and the yield gets better." Each year the team has tracked an increasing number of candidates who've come in via the video door.
Serial Readers
McCarty's team, he says, is highly oriented toward "iteration based on observable data...we inspect the data across all our platforms" from internal newsletters to external blogs "pretty much every day." That's led to some interesting operational changes.
For example, the team broke away from the usual tendency to address a subject internally with a huge article. Most companies try to write articles about an important subject that is a comprehensive, loaded with facts, figures and expert opinions. When it's done, the article is enormous. Bloomberg's communications team did this, too.
Through measurement, the team observed such articles would get about 15% of the company to read it. "That makes sense," he says. "If it's an article about sales, maybe the sales team reads it and that could be about 15% of the company, which is fine. But when we have stories meant to be global, about the company's direction or culture, we want everyone to read it."
What the team discovered through measurement is that a better bet is a series of articles, perhaps one per month, on a given subject. "And when we look at the data we find that we get something like 80% penetration of the whole company. Maybe 80% of the people at the company read one [article in the series]...[and so] they all get that message. That's been a guiding principle of our editorial strategy for the last three and a half years."
Another tidbit: Bloomberg's most-opened emailed newsletters have 15 or fewer characters in their subject line.
Green with Data
One of the savviest communicators in Washington, Marisa Long, VP, PR & communications, U.S. Green Building Council (USGBC), immediately dismisses thoughts that she's completely comfortable working with social and communications data. "It can be daunting…and a little humbling," she admits. "But it is one of the things I love most about what I do." Long particularly likes the ability to measure and "take our work to the next level."
Like McCarty, she learned data on the job and the education is constant: "I learn as much from our staff…as I do from my mentors in the industry."
Long, like McCarty, is a proud Ohio University grad, where she studied journalism at the Scripps School of Journalism. The school, she says, "rightly prides itself on being at the forefront of industry trends and education to prepare its students for their careers."
Yet at the time of her education, fewer than 20 years ago, "we were still faxing press releases, scanning hard copies of media clips and just starting to see journalist data bases and measurement tools online."
It's amazing how the industry has evolved, she says, to the point where "we are completely reliant on online data and metrics to do our jobs. I've really had to learn how to navigate this digital landscape on the job throughout my career."
A Job That Leeds with Data
While some PR pros see measurement as a chore that helps justify their existence to the C-suite, Long's job at USGBC makes using data part of the culture. USGBC created LEED, the world's most widely used green building rating system. "LEED's success is rooted in using data and measurement to set the bar and create a more sustainable built environment," she says. "I'm fortunate to work for an organization where using data to make informed decisions is ingrained in the culture and an expectation of the job."
One of the more interesting insights Long and her team at USGBC have discovered through measurement involves external communications. During the last several years USGBC has advanced its stakeholder engagement strategy as part of its PR campaigns. This has resulted in better local coverage in target markets, in the U.S. and internationally. "As a mission-based nonprofit, we know the best way for us to tell our story is to get our community to share theirs. Our measurement and data tracking show that this strategy works at the local, regional and global scale."
Data reporting has changed recently at USGBC. Long's team moved from quarterly to monthly reports and switched monitoring systems "so that we could create more visuals with our measurement data." Creating a regular maintenance and monitoring routine, she says, will help the team "stay on top of our results and share them with our leaders more frequently and efficiently." Also, for the first time, Long's team created an in-house video in 2017 that provided an overview of the work of the entire marketing department throughout the year. It was shown at the end-of-the-year all-staff meeting.
Data Plus Heart Takes Flight
A gifted storyteller, Southwest Airlines social business advisor Brooks Thomas got a feel for numbers at Southern Methodist University, but it wasn't social measurement. With a degree in broadcast journalism, he started to gain an appreciation for Nielsen ratings and viewership, particularly ages 25-54.
"I learned early the importance of relating a solid news product to numbers," he says. Social media was confined to college-only Facebook, so he gained his measurement chops on the job.
Like Long and McCarty, Thomas is enmeshed in a data culture at work. At Southwest Airlines, he says, "the data charts our course and our hearts lead the way." Knowing customers, prospective and current, and employees through measurement and instinct, "allows us to best serve their needs. If our storytelling was born only out of what we thought was good for everyone, then it would be narrow-minded and niche."
More than that, data sometimes moves Thomas and his colleagues in unexpected directions. "We must force ourselves to be comfortable outside of what we know; data often can tell us when or how to pivot, ahead of our own instincts."
A Story of Cargo and Data
Recently Thomas has been working with the airline's cargo & charters department. Part of his charge is to spread the word that Southwest ships just like traditional shipping companies. He's using data to inform Southwest how to build out a bigger social and digital footprint. "One of the ways to identify an audience, of course, is through content."
Thomas is diving into different commodity data points to examine seasonality, volume and approachability, both attitudinally and visually. From there, Southwest reached out to cargo customers to gauge their interest in being featured in a storytelling series.
Thomas says the airline used data points and optimization throughout each story in the series to cut the cost per lead (CPL) in half. "The more of these we do, the deeper down the funnel we'll be able to refine, and it's exciting because not only is it increasing our cargo customer base, but it's also great for general brand awareness."
Hearty Cooking
For Thomas, it's a combination of data and heart that creates the secret sauce. "Qualitative data matters so much, but oftentimes needs to be activated by the quant. Having a good foundation of creativity, compassion, and ethics cannot be replaced, but neither can numbers...the numbers tell you where to begin, but your heart should be where you end."
NOTE: This content appeared originally in PR News, January, 30, 2018. For subscription information, please visit: https://www.prnewsonline.com/about/info
CONTACT: [email protected] [email protected] [email protected] [email protected]