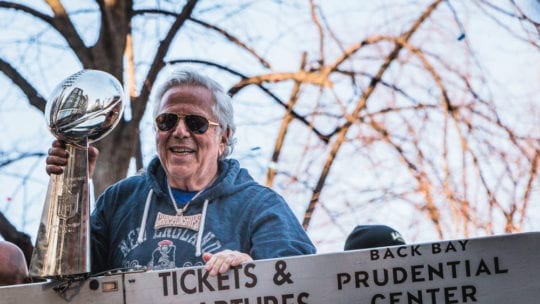 What are the biggest challenges in managing PR crises? A recent PRNEWS Communications Leaders Roundtable in Miami Beach posed that very question. Some of the issues that participating communicators  struggled with included if and when to react to a potential crisis and, once you've decided to respond, what exactly to say. In other words, several basics of crisis management remain problematic for some. Robert Kraft, the majority owner of the New England Patriots football team, has made this abundantly clear.
Last month, authorities said Kraft and a slew of other men visited a Jupiter, FL, spa in January where they paid for sex. Some of the women working in the spa were allegedly there as a result of human trafficking.
Bad Facts
Even in an era when facts sometimes aren't facts and "the truth is not the truth," it's hard to refute the evidence on videotape of Kraft entering the spa. In PR parlance, Kraft's two visits to the spa are "bad facts."
When a brand thinks it might have a PR crisis, the first step is to monitor the conversation around your brand. When bad facts are part of the crisis, sometimes monitoring is quick or dropped. You know the conversation around your brand is bound to damage its reputation. The facts are so bad and obvious.
As Hill+Knowlton Strategies' crisis guru Kevin Elliott has told us,  "The advice we give brands [when confronting a crisis that has bad facts] is 'Stand up, put on your big boy pants and express empathy if you can find victims, and get there fast; say what you know and be transparent and accept responsibility, not necessarily liability, and be part of the fix.'"
Kraft's people certainly moved quickly. Upon news of the allegations breaking, a spokesperson promptly denied Kraft was involved in anything wrong. The exact language: "We categorically deny that Mr. Kraft engaged in any illegal activity. Because it is a judicial matter, we will not be commenting further." Videotape be damned.
The Non-Apology Apology
Living in a time of digital communications, where news and information spread at tremendous speed, the promptness of an apology is critical. On that score, Kraft whiffed. After four weeks of silence, Kraft apologized, sort of,  Saturday, March 23, 2019 (did someone advise his team that weekend news tends to attract less attention?).
Yet if you read the apology, it's really a non-apology apology. Kraft never says what he's apologizing for. He also fails to apologize to at least one group of alleged victims (the women working in the spa who might be there a result of trafficking).
Statement from Patriots' owner Robert Kraft: pic.twitter.com/GiswaNQxh4

— Adam Schefter (@AdamSchefter) March 23, 2019
Deflection
Kraft tries to deflect, noting he greatly respects human beings and has "extraordinary respect for women." He also attempts to gain sympathy points as he mentions his late wife, "the love of my life," who influenced his "morals and my soul."
To be really skeptical, we could also mention Kraft has lawyered up, hiring some of the top legal minds in the country. This is the right of a billionaire businessperson, of course. Thing is, as Kraft's apology was hitting the news cycle one of this attorneys was attacking police for their illegal tactics. This combination of sweet and sour made for a tasteless recipe.
Credit where it's due, Kraft's apology isn't completely awful. Its tone isn't bad. He sounds somewhat remorseful and apologetic, even if it seems inauthentic. The legal proceedings obviously limited Kraft's authenticity. This might have been the rare occasion when "no comment" was the right way to go.
Seth Arenstein is editor of PR News.  Follow him: @skarenstein