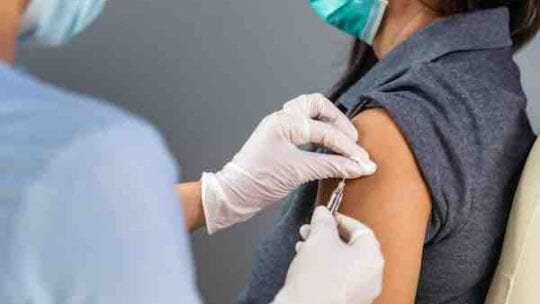 As communicators plan for the year ahead, one thing is certain: The COVID-19 vaccine will play an important role. Returning to the workplace, safeguarding employees and protecting the broader community will hinge upon whether or not employees take the vaccine.
On the surface, this communication challenge may seem insurmountable. Fake news, toxic social media misinformation and eroding trust in institutions like government and media appear to be a recipe for a communication disaster.
However, corporate communicators have more influence to address the vaccination issue than they may realize. Employees depend on employers for healthcare, as well as health information, among other things.
In addition, Edelman's annual Trust Barometer finds business was 2020's most trusted institution globally.  And there are expectations: 86 percent of respondents told Edelman that CEOs should speak out on societal issues; 68 percent said CEOs must step in when governments fail to fix societal problems. Moreover, 53 percent said corporations have a responsibility to provide information when media is absent.
Considering these data, it seems clear corporate communication is possibly the most trusted source of information for employees. With employees and the public expecting companies to act on COVID-19 issues, 2021 will be a year for corporate communicators to lead.
So, let's turn to coronavirus vaccination. It's important to make internal communication around the vaccine engaging, direct,  people-focused and even fun.
Here are some ideas:
Video is Essential
As communicators, much of what we do is written: newsletters, emails, blog posts, internal articles, etc. These are important and valid communication methods. Still, when employees put work aside, they watch Netflix, scroll TikTok and ingest video content at tremendous rates.
Creating a video may appear intimidating. However, for some on your team, it's intuitive and easy.
Start small. For example, try a 1-minute video. Include cameos from employees and leaders sharing why they're getting vaccinated. As employees see colleagues extolling the vaccine, they'll feel more connected to the campaign. An article or blog post may feel distant to a reader, but a video with peers instantly humanizes an initiative. In addition, it helps employees relate to the message on a deeper level.
Make it Engaging and Shareable
Another way to increase engagement is to make vaccination fun. For example, anyone who gets the vaccine is eligible for a weekly prize.
On social, create hashtags that will excite employees. Examples could include #DontWaitVaccinate or #NotThrowingAwayMyShot (thanks, Hamilton). This will have the added benefit of spreading an internal message externally.
Another tactic: tap cultural ambassadors who are passionate about vaccination. They will amplify messaging to fellow employees. By tapping into fun and engaging initiatives like these, you'll cultivate a more welcoming communication environment that's .
If companies commit to providing 360-degree support to internal stakeholders, communicators can help COVID-19 fade into the background.
Will Zesiger is senior associate in employee communication at Cheer Partners