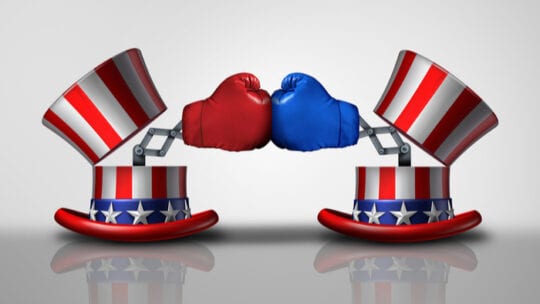 [Editor's Note: Earlier this month, PRNEWS asked veteran DC communicator Gene Grabowski of kglobal to assess the effectiveness of messages delivered during the Democrat and Republican conventions. In solidarity with athletes of the NBA, MLB, the NHL and others, and in honor of today's march in Washington, we have chosen to alter our normal publishing cadence. This will be our sole online post today. In addition, we are significantly reducing our social posts.]
Political experts and operatives in both major parties agree that November's national election transcends policy. Most maintain that the decision on who will win the presidency boils down to voters' judgment on the character of former VP Joe Biden and President Donald Trump.
That analysis was borne out in the messages presented online during the Democrat and Republican virtual political conventions. Each event relied heavily on hyperbole, rhetorical attacks, visual effects and maudlin appeals to the emotions of voters, while largely avoiding traditional stump speeches.
As a Washington news reporter in the 1970s and 1980s, I covered national political conventions for The Associated Press. Since then, I've worked with politicians, business executives, athletes and celebrities, helping them improve their presentation and media-interviewing skills. Based on those experiences, I'll share views about the style and effectiveness of this year's convention speakers, leaving aside judgment on content.
Many Misused the Virtual Format
The virtual format provided a direct, intimate way to present messages designed especially to appeal to viewers at home, rather than to wildly cheering delegates waving placards in a noisy sports arena. Voters had the opportunity to see and hear more precise messages than are usually heard at conventions from politicians shouting campaign rhetoric to the applause of raucous supporters.
Sadly, too few speakers took advantage of the virtual medium. Instead, they decided to shout, exaggerate, bluster or obviously fake sincerity in front of an unforgiving camera. Are you listening, Kimberly Guilfoyle, Eric Trump, Hillary Clinton, Mike Pompeo and Kamala Harris?
But those who used the format properly scored big.
Biden, in particular, benefitted on the final night of the Democrats' show. He delivered a properly impassioned address that included a call for unity, his campaign's centerpiece. He looked healthy, kept his composure and appeared presidential.
Perhaps most effectively, he never mentioned Trump's name. Overall, his focused presentation was likely to accomplish what a convention speech is supposed to do: persuade undecided voters to support him.
An Effective Backdrop
For his part, President Trump used the backdrop of the White House effectively to deliver one of his strongest addresses. He stayed within the safe confines of the Teleprompter and inspired his defiantly unmasked and socially un-distanced audience with a litany of the administration's self-proclaimed successes.
He benefitted greatly from the presence of a live audience that applauded his oratory and enabled him to present the sole traditional convention speech of either event. But in a rambling recitation of his accomplishments, the president mentioned Biden 41 times, made too many points for undecideds to follow and said little that would persuade them to vote for him.
Masterful Performances
Former President Barack Obama and former First Lady Michelle Obama turned in masterful performances, deftly balancing pointed criticism of the president's abilities with uplifting arguments for a Biden presidency. They didn't overplay their emotions or resort to exaggeration, instead exhibiting what appeared to be genuine concern for the country's future.
Among the biggest surprises was Melania Trump. Unlike the majority of RNC speakers, she demonstrated what appeared to be genuine empathy. In addition, she was the only GOP speaker to acknowledge the continued threat of coronavirus.
Congresswoman Gabrielle Giffords' talk was especially moving and effective. She used her experience as a victim of gun violence to underscore her appeal for stricter gun legislation. Her effort was all the more impressive because of the obvious difficulty she has speaking as the result of her injury.
Perhaps the single worst performance of both conventions was that of the president's lawyer and former NYC mayor Rudy Giuliani. He delivered an histrionic diatribe that was unworthy of a seasoned, professional political leader. Among Giuliani's excesses, he called Biden a "Trojan horse for pro-criminal, anti-police, socialist policies." Such hyperbole undercut the credibility of any meaningful messages Giuliani may have hoped to convey.
Common Shortfalls
I won't critique the non-politicians who presented during the course of the conventions. After all, they aren't professional speakers. Below is a rundown of flaws common among speakers at both conventions.
No Connection with the Audience: Too many speakers, especially the Republicans, sounded self-serving and dismissive of the audiences they were supposedly addressing. They seldom spoke to viewers in the second person, opting instead to speak about themselves in the first person, or about the president or Joe Biden in the third person.
A Good Connection: The rare exception was Ivanka Trump, who, on the final night of the GOP convention, began her speech by telling her live audience on the White House lawn and those at home that her father's administration would help them recover from Hurricane Laura. For several minutes she continued in the same vein, establishing a connection with her audience before launching into a more policy-driven, fact-laden speech. It's critical for presenters to connect with the audience by speaking directly about–and to–it. That's one of the touches that made Franklin D. Roosevelt, John F. Kennedy, Ronald Reagan and Bill Clinton great political speakers.
No Humor: The speakers used humor too little, and there were far too few smiles. I'm not advocating joke-telling, forced gags or wisecracks–I mean real, honest humor that accomplished speakers use to connect with audiences. True, it's difficult to use humor without a live audience, but that's why teachers, politicians and business professionals must learn to skillfully apply it in a virtual medium. Look at Stephen Colbert or Whoopie Goldberg for examples of how to connect with people in a virtual COVID-19 environment.
No Emotion. Information delivered without emotion is not retained. Speakers including VPMike Pence, Secretary of State Mike Pompeo, former NYC Mayor Michael Bloomberg and Michigan Governor Gretchen Whitmer delivered their lines with less-than-adequate conviction–and thus left us with nothing to remember them by.
Overused Phrases. How many times do we have to hear that "the stakes have never been higher?" Speakers used this trite phrase to describe the importance of the election. Those who want to be memorable must find original ways to express themselves. Hillary Clinton, to her credit, offered a memorable line when she said: "This can't be another woulda coulda shoulda election."
Gene Grabowski is a partner at kglobal  Follow him at:@crisisguru