In anticipation of 'March Madness,' this month we look at consumer engagement with social posts about the college basketball tournament across platforms.
Notably, the share of consumer engagement for March Madness content on Facebook more than doubled compared to the same period in 2021 (Feb. 1-22). This was so despite the volume percentage of March Madness Facebook posts falling 22 percent, says Madison Busick, an analyst at comScore (previously Shareablee), which provided data exclusively to PRNEWS.
Engagement, or actions, is the sum of Likes, shares and comments.
Facebook posts about March Madness in 2021 mostly revolved around COVID protocols and risks of attending the games, says Busick. This year posts are more fun, ie, they focus on the games leading to the tournament.
On Instagram, Complex Sneakers saw the most engagement with its sole post about a pair of shoes launching during March Madness.  Busick says this post, which saw close to 54K actions, was responsible for 8 percent of all engagement on the platform during the period.
Sports culture fan favorite Overtime SZN also posted only once and saw tremendous efficiency, with nearly 40K actions, earning it the number-two spot on Instagram. Busick reports that the post was responsible for 6 percent of all engagement on the platform during this period.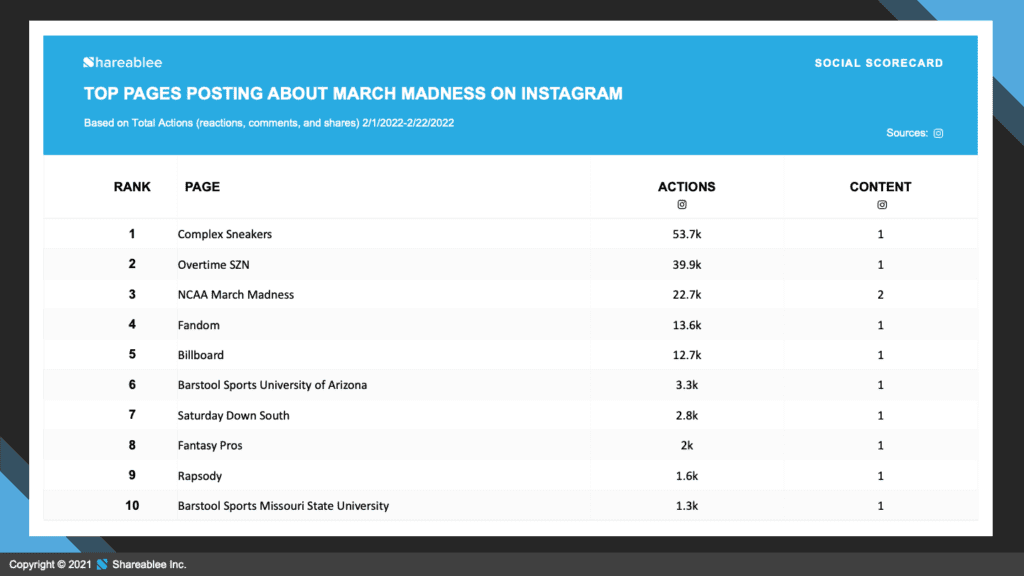 There are no big surprises when it comes to the top posts on Twitter and Facebook, though Texas governor Greg Abbott saw more than 7K actions on his sole post about the matchup between Texas and Texas Tech in Feb.
On Twitter, entrepreneur Gary Vaynerchuk saw 1.6K actions on his sole tweet, which references March Madness as one of four items he wants his followers to be aware of:
#1 march madness I have a wild final 4
#2 the @nyjets Free agency was amazing
#3 my mom is the greatest
#4 I❤️u#