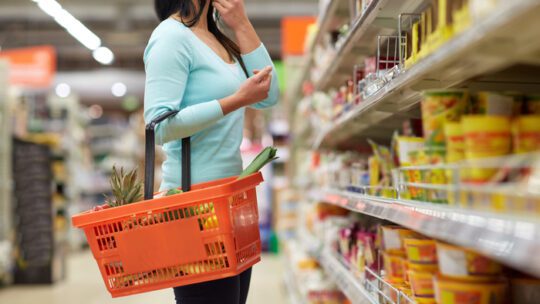 There are many views about how a person is measured. Plato believed what a person does with power is how you measure her.
For Goethe, the measure of a person was how he/she treats someone who can do absolutely nothing for him/her.
President Joe Biden's take is that the measure of a person isn't just the road she's traveled, "but the choices made along the way."
MLK and Crisis
A crisis-oriented view comes from Dr. Martin Luther King Jr., who said, "The true measure of a man is not how he behaves in moments of comfort and convenience but how he stands at times of controversy and challenges."
Companies are collections of people. So, one way to judge them is how they measure up during challenges, or a crisis. A Salesforce survey of 12,000 global consumers and 3,600 B2B buyers provides evidence.
Polling people during the first year of the COVID-19 pandemic, the survey found 90 percent say how a company acts during a crisis demonstrates its trustworthiness.
Moreover, 89 percent of customers expect companies to state their values clearly, and 90 percent expect them to walk the talk.
One of the first things Ken Fields, FleishmanHillard SVP and its crisis chief, does when he's counseling a company during a crisis is ask how about its values. "What kind of company do you want to be known as?" he asks. "What values do you want to uphold?" The survey shows why his emphasis on corporate values is sound advice. It's clear the public considers corporate values important (chart 1).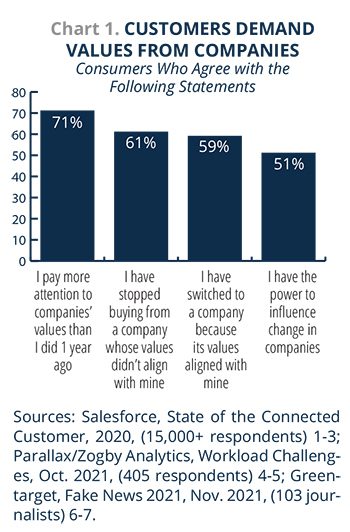 While businesses do not welcome a crisis, there is a small silver lining, at least with the pandemic. Nearly 80 percent say this crisis should be a catalyst for businesses to improve. From the public's viewpoint, chart 2 indicates business has much to improve.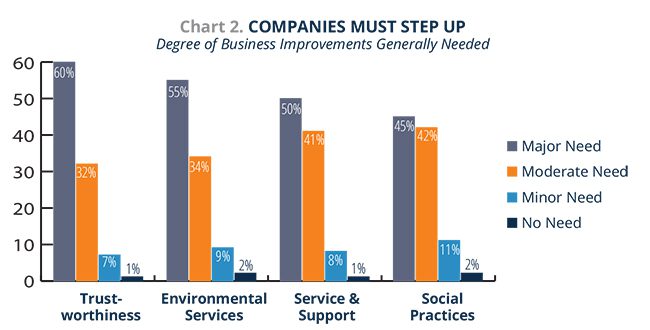 The pandemic's emphasis on remaining indoors pushed online use to record highs. And Gartner says 80 percent of B2B sales will be online by 2025.
As such, crisis communicators know the digital environment is a critical venue for crisis response messaging (chart 3).
Burnout and Crisis
In light of so much of consumers' lives moving online during the pandemic, it's little surprise that 3 of 4 digital services staff say their workload is overwhelming, according to a survey last month of 405 digital service employees by Parallax and Zogby Analytics (Charts 4, 5). Moreover, nearly 90 percent (86 percent) of those who felt they were overwhelmed most or all the time before the pandemic, feel they are now too.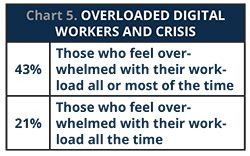 The work overload feeling is a hazard for staff at companies with less than $100M in annual revenue (47 percent) and relative newcomers: 48 percent who have worked in digital services companies for five years or fewer.
Having burned-out staff is a pain point that can lead to a crisis. Overloaded staff may have less time to spot potential crises, for example. In addition, a workload imbalance has a direct link with employee engagement and retention, the survey shows.
Another issue with potential to lead to a crisis is misinformation and disinformation about a company, its products or employees. In addition, we saw mis- and disinformation spread wildly on social media, resulting in US Surgeon General Dr. Vivek Murthy labeling it a "serious threat to public health" during the COVID crisis.
Fake News and Crisis
Unfortunately, few data points in "Fake News 2021," a July-August survey of 103 mostly US-based journalists from Greentarget, a PR firm, offer reason for optimism. Survey results were released earlier this month, though Greentarget concedes, "journalists can be a cynical bunch."
For example, comparing data from the 2020 survey to the 2021 version, there was little change in journalists' view of efforts to stanch fake news (charts 6 and 7). Interestingly, nearly all journalists (93 percent) believe it's their ethical responsibility to combat fake news. That's up from 85 percent in 2020. And 84 percent agree or strongly agree that the term "fake news" contributes to the "delegitimization of traditional journalism and news sources."