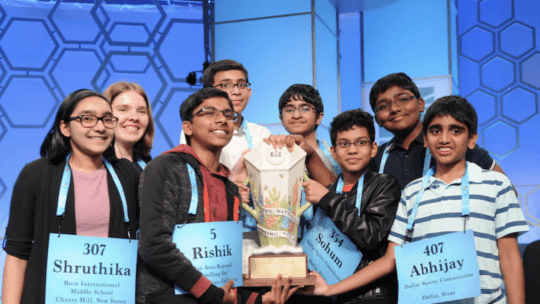 Auslaut, erysipelas, bougainvillea, aiguillette, pendeloque, palama, cernuous and odylic.
Yes, these are real words. The words eight students spelled to win co-champion status in the historic 92nd Scripps National Spelling Bee. The bee went 20 rounds and ended after well after midnight on Friday, May 31 after officials made an unprecedented decision after round 17. After three final rounds, the remaining spellers would be named co-champions.
"We have plenty of words left on our list but will soon run out of words that would challenge you, the most phenomenal collection of super spellers in the history of this competition," said the Bee's official pronouncer Dr. Jacques Bailly. "We're throwing the dictionary at you and so far, you are showing the dictionary who is boss."
Each champion will receive $50,000 cash and a giant champion trophy, in addition to trips across the country for public and television appearances and the ever-precious reference books.
Traditionally, the bee rules say no more than three spellers can share the championship. According to CBS News, "the possibility of four or more winners wasn't considered before Thursday." Paige Kimble, the bee's executive director, told CBS News that bee officials created a contingency plan for multiple champions after the log-jam of spellers' success became clear.
"When we began to comprehend the mettle of our finalists, we began to think about what could possibly happen this evening (Thursday)," Kimble said. "We went into the evening with the plan that we executed on this evening."
While many communicators will never have to spell the likes of these grammatical behemoths, mistakes can occur even with simple words. Spelling remains one of the top priorities of communications professionals, because spell check cannot always save a true blunder. Typos and misinterpretations still happen.
The creators at Your Dictionary put together a useful infographic with some of the most commonly misspelled and misused words in the English language. Remember to always get a second editor and give your writing multiple looks before publishing or sending.