Share Our Strength is a national nonprofit working to end childhood hunger in the United States through its No Kid Hungry campaign, which helps ensure all children receive the healthy food they need. In 2012 and 2013, the No Kid Hungry campaign engaged APCO Insight—the opinion research group at APCO Worldwide —to design and conduct opinion research on the perceptions, attitudes and experiences of U.S. public school educators on childhood hunger in their schools.
The research would augment the No Kid Hungry campaign's previous efforts to survey key audiences on this issue and help guide their programs to work more effectively to end childhood hunger in the United States.
The campaign surveyed K-8 grade public school teachers four times from 2008-13. The survey, "Hunger In Our Schools: Teachers Report," is an essential tool in the campaign's efforts. It provides teachers and critical stakeholders a platform to share powerful stories and voice their unique perspectives.
LIMITED RESOURCES
In past years the report has confirmed the rise of childhood hunger in the United States, helping to shape the debate around its relationship to educational achievement.
APCO Insight was engaged to help the No Kid Hungry campaign continue to track the pervasiveness of childhood hunger through the study and solidify its place as a benchmark indicator for how effectively the country is addressing childhood hunger.
For these surveys, the campaign needed deeper insights and analysis into childhood hunger in U.S. schools in order to use the data to increase participation in the school breakfast program.
More specifically, the surveys needed to further explore perceptions and attitudes of nutrition programs, such as rethinking how schools serve breakfast, afterschool meal and summer meal programs.
As with most nonprofit organizations, a key challenge was how to achieve the ambitious research and policy goals with limited resources.
However, creativity and collaboration regarding the research design allowed APCO to find ways to improve the impact of the survey without bloating the budget.
Understanding the audience was key to estimating how much the research would cost: the more discrete the audience, the more expensive the cost to reach them.
For example, some of the No Kid Hungry campaign's key states, such as Arkansas, have a limited universe.
So reaching a large enough sample size for statistical validity was more difficult than anticipated. Another hurdle: Other audiences have not existed for very long, e.g., schools with Breakfast After the Bell programs.
As a result, information on this audience was not widely available. In order to overcome these challenges, APCO Insight recommended a sampling design that would best meet objectives within Share Our Strength's resources.
An additional challenge was to ensure the survey helped the No Kid Hungry campaign both better understand barriers to students participating in the school breakfast program and ways to develop impactful messages about the benefits to overcome these barriers.
The U.S. Department of Agriculture (USDA) administers the National School Lunch Program and the School Breakfast Program, both of which offer free and reduced-price meals to low-income students.
However, among the number of low-income students who eat a free or reduced-price school lunch (21 million), only about half currently eat a school breakfast (less than 11 million).
The survey design needed to explore why this gap exists while also helping the campaign better understand solutions, such as rethinking how schools are serving breakfast.
APCO's leading researchers, creative design team and health and nutrition communication experts collaborated with the No Kid Hungry campaign to begin this important work.
PLACE SETTING
For starters, APCO Insight thoroughly reviewed the two previous editions of the survey to understand past methodology. Specifically, it had to ensure that the primary audience (national K-8 public school teachers) and approach (an online survey via a trusted online panel provider specializing in education professionals) remained consistent.
Next, APCO Insight and the No Kid Hungry campaign worked together to analyze which questions had been successful in previous years and which best met the given objectives. A "successful" question was defined as something that provided meaningful data points for use in communications and/or programmatic strategies.
Once successful questions were finalized, APCO Insight and the No Kid Hungry campaign developed new questions to help the campaign gain the deeper understanding it was looking for.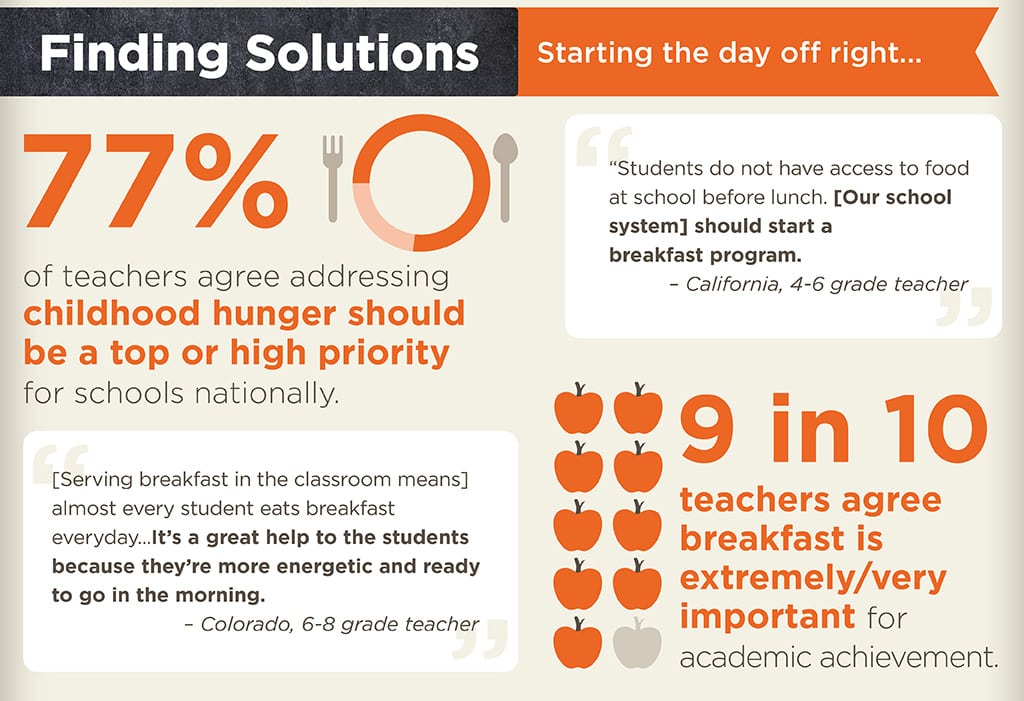 DRILL DOWN
Another survey may be conducted in 2014. Moving forward, the No Kid Hungry campaign will continue to use the report in communications efforts in order to support its policy objectives and programmatic goals. These goals include:
• The power of information from the front line. Hearing from teachers and principals who are on the front line of this issue has proven to be a compelling and effective communications strategy for the No Kid Hungry campaign.
• How to pitch opinion research to media. Strategizing on the timing of opinion research is key. By releasing the Teachers Report findings during the back-to-school season, the No Kid Hungry campaign has become part of the natural conversation throughout the media during that period.
• How to connect with elected officials. Providing the national level findings along with the state-specific quotes from educators, the report is able to serve as a tool for elected officials speaking about this issue in Congress, state capitals and city councils.
• How to influence key stakeholders and thought leaders in hunger and education. Repeating the research has allowed the campaign to demonstrate trends and connect the issue of childhood hunger with education issues facing our students.
Conducting research that can help with both messaging and strategy is a vital tool for the No Kid Hungry campaign. While the Teachers Report provides messaging and news hooks, it also gives voice to programmatic strategies. PRN
(This article is an excerpt from PR News' Top Case Studies in PR Guidebook, Vol. 6. It was written by Bill Dalbec, senior director of APCO Insight, and Christy Felling, PR director at Share Our Strength. For a copy of the guidebook, please go to www.prnewsonline.com/pr-press.)
How to Enhance Your PR Research
The improved questionnaires [for the campaign] were fielded in May 2012 and 2013 before most school systems ended for the summer. Once interviews were completed, APCO Insight led analysis and reporting.
Key findings included:
• Hunger in U.S. public schools continues to be a pervasive and serious problem.
• Hunger in the classroom has negative consequences including an inability to concentrate, a lack of energy and poor academic performance.
• Educators have seen positive results in solution- oriented programs such as Breakfast After the Bell and support further implementation of programs like these.
Outcomes of the research included:
• Holding three webinars with No Kid Hungry campaign key stakeholders, including state and federal partners such as government officials and nonprofit organizations. The effort was designed to show the pervasiveness of the issue and support by educators for potential solutions. More than 120 people participated in these webinars.
• Creating a narrative infographic for the 2012 survey that is used as collateral to help deliver the key takeaways from the survey. Brochures of the findings were created for both years of the survey and disseminated through local state campaigns and the No Kid Hungry network.
• Briefing Congressional staff on Capitol Hill.
• Making concrete recommendations for state partners on improved program tactics, such as messaging for outreach to schools.
• Developing content for articles with key stakeholder groups including the American School Board Journal, School Nutrition Association and others.
This sidebar was written by Bill Dalbec, senior director of APCO Insight.
CONTACT:
Bill Dalbec, wdalbec@apcoworldwide.com; Christy Felling, cfelling@strength.org.
---
This article originally appeared in the April 28, 2014 issue of PR News. Read more subscriber-only content by becoming a PR News subscriber today.