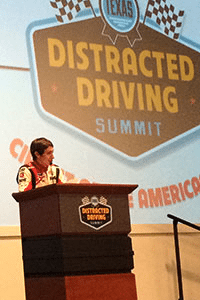 Distracted driving has been called a national epidemic. In Texas, which has more miles of roadways than any other state in the U.S., distracted driving is a serious public health threat, causing more than 95,000 traffic accidents in 2013. Drivers who use a cell phone behind the wheel are four times more likely to get into a crash serious enough to cause injury. Reading or sending a text takes a driver's eyes off the road for about five seconds, the equivalent of driving the length of a football field at 55 miles per hour blindfolded. Hands-free cell phone use is just as dangerous. Talking on the phone while driving causes a range of cognitive impairments that reduce reaction time, overload the brain and create "inattention blindness"—the phenomenon that makes drivers unable to see or monitor up to 50% of the potential hazards in their driving environment.
Sherry Matthews Advocacy Marketing's "Talk, Text, Crash" public education campaign for the Texas Department of Transportation (TxDOT) was designed to reverse the number of crashes, fatalities, and injuries tied to distracted driving.
HARD DRIVE
The integrated campaign, which launched in April to coincide with National Distracted Driving Awareness Month, used paid media, news coverage, social media, corporate partners, statewide organizations, law enforcement and community stakeholders to deliver an important reminder to drivers: You Talk, You Text, You Crash.
The campaign positioned TxDOT as a leader and driving force behind a comprehensive and sustained statewide movement to stop distracted driving. The communications strategy was designed to raise awareness about the dangers of distracted driving, promote practical alternatives to using a cell phone while driving and encourage commitments from stakeholders and drivers not to text or talk and drive.
The "Talk, Text, Crash" slogan delivered a direct instruction to Texas drivers of all ages. The campaign also included these elements:
• Public relations and outreach activities educated Texans about the prevalence and consequences of distracted driving and provided useful information about how to affect behavior change.
• A private/public sponsorship was launched to coincide with the "Distracted Driving Summit" to make prevention of distracted driving a statewide business priority.
• A giant 950-pound "crashed phone" was taken on tour and carried campaign messages to major media markets and communities throughout the state, providing a platform for local news and storytelling (see image on p. 7).
• New statewide partnerships were leveraged to deliver campaign messages to employees, customers, and constituents.
• Campaign messages were amplified using a strong word-of-mouth delivery system via business, media and community partners, with an emphasis on social media.
An innovative paid media plan using billboards, gas-pump ads, radio, theater ads, digital and online video, in both English and Spanish, launched in April to support national Distracted Driving Month. Educational toolkits were prepared for traffic safety specialists, community partners and Texas businesses.
A sustained presence online reminds millions of drivers to pay attention to the road and avoid texting.
EXTENDING THE MESSAGE
TxDOT's Texas Distracted Driving Summit event, last June, was a critical message extension strategy, as it cast the traffic safety issue as a real and urgent business concern.
During the summit business leaders were asked what they can do to protect employees, reduce liability and help keep Texas roadways safe.
When employees crash while using a mobile device their employers can be held liable. Every day, nearly 9.5 million Texans commute to work by car, and truck drivers haul more than one billion tons of goods and products each year within the state's borders. More workers are killed every year in motor vehicle crashes than any other cause, and an employer's price tag for an on-the-job crash is about $24,500 per vehicle crash, $128,000 per injury, and $3.8 million per fatality.
The summit's objective was to highlight the economic and societal impact of distracted driving and encourage businesses to implement policies and educate their employees about the risks of texting and other distractions.
TxDOT invited business leaders from across the state to hear experts discuss the business impact and financial liability for crashes that result when employees drive distracted on the job. Summit attendees became valuable torchbearers for the "Talk, Text, Crash" campaign. The executives were provided with talking points to discuss at their office, as they became valuable evangelists for the "Talk, Text, Crash" campaign.
THE LONG HAUL
The event was held in April, at The Circuit of The Americas racetrack, home to the world's most focused drivers, featuring the United States Grand Prix Formula 1. Summit attendees were treated to VIP tours of the track, and the agenda featured a blend of expert discussions, case studies, practical tools and resources to implement a company distracted driving policy.
Speakers included national experts on distracted driving and corporate liability, cognitive scientists, and Texas-based businesses that have implemented successful distracted driving policies, including ExxonMobil, AT&T and All My Sons Moving & Storage, which shared their experiences and best practices. A news anchor from the local CBS-affiliate television station moderated a panel at the Summit, providing embedded coverage.
The cognitive scientists who presented at the Summit—also hosts of a public radio talk show—used material about distracted driving as the subject of one of their radio shows, further extending the campaign's message.
Zach Veach, Andretti Autosport racecar champion and advocate against distracted driving, also participated at the event, sharing the story with his social network and boosting the campaign's visibility.
Similarly, meeting attendees posted campaign information and personal pledges to drive distraction-free using #TxDDSummit and #TalkTextCrash.
The Summit event also included national advocates against distracted driving and heart-wrenching testimonials shared by families of victims of Texas distracted driving crashes.
The 950-pound crashed smartphone prop was unveiled at the Summit and served as an effective backdrop for local media live coverage.
The ultimate goal of this campaign was to save lives and prevent injuries by motivating drivers to give driving their full attention. Changing public opinion and behavior takes time.
After the Distracted Driving campaign concludes, Sherry Matthews Advocacy Marketing will work with TxDOT to understand shifts in attitudes, self-reported changes in behavior and increases in distracted driving policies.
Once available, crash statistics will gauge whether the messages are getting through.
Meanwhile, public relations and earned media efforts are keeping the topic of distracted driving front and center in the media. To date, we've had more than 500 media stories in every major daily and every major network affiliate in Texas.
(This article was writen by Robert Nash, PR director at Sherry Matthews Advocacy Marketing.)
Going Mobile With a 950-Pound Smartphone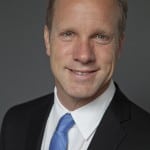 The Texas Department of Transportation took the distracted driving message to the streets with a graphic expression of its "Talk, Text, Crash" public education campaign. Sherry Matthews Advocacy Marketing developed the car-sized, 950-pound crashed smartphone as a mobile backdrop to use at public relations events. The traveling prop toured Texas communities to spread the word about the dangers of distracted driving and was center stage at media events in six major media markets in the Lone Star State.
The truck was positioned in front of community landmarks, with local law enforcement, traffic safety specialists, and community partners standing in front of the truck and delivering the message to pay attention while driving. Community members who lost loved ones to distracted driving crashes shared their personal stories as well.
The giant phone delivered significant results, appearing live on several local morning-TV shows. The 950-pound phone clocked more than 2,200 miles during a two week period and yielded almost 700 print, broadcast and online images. TxDOT will continue to use the prop at community and educational events after the campaign concludes.
There were five PR elements designed to drive the campaign:
1. Tell a story. Content is key to reach and influence. Use data to build a relevant, newsworthy and compelling story that underpins the entire campaign.
2. Think visually. Find a way to break down your message and express it with a single image.
3. Think locally. Develop strategies to make your message resonate and connect with communities. Don't presume that your audience will find you. You have to package the message for them.
4. Be consistent. Be sure that every element in the campaign carries the same personality and delivers a coordinated message and tone.
5. Leverage partnerships.Find ways to engage partners by accenting the intersection where your goals and their goals meet.
—R.N.
CONTACT:
Robert Nash, robertn@sherrymatthews.com.
This article originally appeared in the August 18, 2014 issue of PR News. Read more subscriber-only content by becoming a PR News subscriber today.