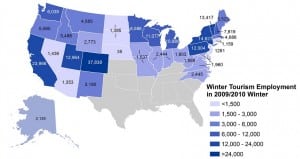 Skiers and snowboarders are having an increasingly tough time finding new powder to master. Some of the places where these snow lovers could go to get their fix of winter-bound fun are starting to dry up. The culprit? Climate change.
Pro snowboarder Jeremy Jones founded the nonprofit Protect Our Winters in 2007 and has spent the last several years working to try and find ways to slow climate change.
In 2011, Jones and a few of the winter athletes he's recruited to help his cause were visiting Capitol Hill. Jones told a representative from National Resources Defense Council, a fellow nonprofit, that he kept hearing questions about how climate change would affect jobs and which states would bear the brunt.
One of NRDC's primary goals is moving forward carbon-pollution standards for power plants since they currently create 40% of the world's carbon-pollution emissions. Protect Our Winters had a similar interest, so the two groups teamed up to try and figure out a way to humanize the issue for everyday Americans.
The result was a decision to create a comprehensive report on what climate change could mean for the snow-tourist industry in America, drilling deep down into specific, state-by-state data. The two organizations studied what could potentially happen to revenue and jobs for the hotels, lodges, and restaurants in America's snowiest states if the changing weather patterns continued to make it difficult for snow lovers to find a good place to play.
They then assigned The Hastings Group, a consulting firm that specializes in representing nonprofits and organizations, to help get the word out about the campaign, which was called, "Winter is in Trouble."
The campaign had two major tiers and started with a press effort last December that used the credibility of a report by economists for NDRC and the draw of celebrity athletes from Protect Our Winters.
"The great thing about involving the athletes was that [they] are engaging in sports that tens of millions of everyday people are engaging in," says Scott Stapf, senior principal of Hastings. "Whether it is a single mom who takes her kids to a snow park or a guy who blows off steam by snowmobiling, the athletes reach them and [can] show them that this could affect them."
THE FIRST RELEASE
The campaign, which was initially supposed to launch in April 2012 and coincide with the end of the traditional ski season, would be based on a report showing what could happen to a wide variety of snow-travel businesses if climate change is not abated, says Antonia Herzog, assistant director of Climate and Clean Air Program at NRDC.
But when that window passed the groups decided to roll things out in December to coincide with the start of the fall ski season.
"It hit just right," Herzog says. "The snow was terrible last year and it didn't start great this year and so people were starting to worry about it and talk about it and then the report came out and it got picked up by a lot of places."
A piece in The New York Times certainly helped to boost the campaign's visibility.
Stapf says that NRDC and Protect Our Winters targeted a few national online publications that lined up with the subject matter that they wanted to align with, such as ESPN.com and Outside.com.
"We nailed down pretty much all of those," he says. "All of those Olympic athletes involved in our media push really helped get coverage from those media outlets."
While being in the Times and other national publications helped the story get picked up by plenty of other media outlets, Hastings was working hard to make sure the local markets told the story as well.
That state-by-state data that showed the potential loss of tourism dollars and jobs was crucial. Hastings took the top 10 and bottom 10 states, in terms of impact, and went after coverage in local media.
"In some cases, we could link up an athlete who hailed from that state so they could talk to the state-specific media," Stapf says. "It was really that combination."
Stapf called these types of campaigns "split levels," with one level being the national effort and the other being more localized.
THE SECOND RELEASE
While the campaign plugging the report got a lot of play in December, the research got renewed interest in April when Jones was awarded a "Champions of Change" award from the White House.
Jones didn't overlook an incredible opportunity. He got 75 of his winter-athlete buddies—including several Olympic and X Games medalists—to sign a letter to President Obama asking him to follow through on what he said during his State of the Union speech and work toward slowing or stopping climate change.
"Without a doubt, winter is in trouble," Jones wrote. "At risk are the economies of tourist-dependent states where winter tourism generates $12.2 billion in revenue annually, supports 212,000 jobs and $7 billion in salaries. Those are the jobs and businesses owned by our friends and families, generators of billions in federal and state income."
Hastings, POW and NRDC got the word out, making sure to go back to the news outlets that had run the first story in December.
"That was highly effective," Stapf says. "We had a very high conversion rate. An agency should always use momentum from a previous effort."
Without the first effort, though, the second story would not have had anywhere near as much impact, Stapf adds.
CHANGING CHANNELS
The campaign targeted newspapers, national broadcast channels and local outlets in 20 states, generally pairing up athletes, economists and someone from NRDC in each interview. In smaller markets, the campaign targeted newspapers with a 25,000-plus circulation.
Related bloggers were contacted about the information, as well as niche websites catering to audiences interested in the subject matter.
As for social media, the campaign lacked its own Facebook page or Twitter feed, but the athletes involved got the message out on their own Facebook and Twitter outlets.
The tweets, in turn, went viral with some highly visible sites in the space, Stapf says.
"When we can work with somebody who is recognizable to people and they can get picked up on the Sierra Club website, which shows their Twitter feed on their homepage, that's 65,000 people seeing it," he says.
NRDC was pleased with the more than 250 media hits it received from the campaign. "The most surprising thing was the size of the response and the longevity of it," Herzog says. "We're still getting stuff out of it. It seemed like the public is ready to talk about climate change and how it might affect them."
Herzog says she was particularly impresssed with a teleconference that attracted 40 reporters from across the country. "When people are asking smart questions about an important subject that, to me, is an absolute success." PRN
CONTACT:
Scott Stapf, stapf@hastingsgroup.com.
Three Tips for Generating Local Media Coverage
Scott Stapf is cofounder of The Hastings Group, a consulting firm specializing in the representation of nonprofits, membership groups, and other organizations. He shared a few tips on how to generate local media coverage.
1. You need something relevant and interesting on the front end that will get their attention and get them focused: Have customized state or market research. If you don't make those state-customized or market-customized calls with relevant data, you're not going to get the results you're looking for. It's easy to think that people in Colorado are going to find this because it's relevant to Colorado, but it isn't likely. You need to get that information into the right hands.
2. There's a tendency when there is a data-driven report to go way off the deep end using celebrities to get attention: At the other extreme is where it's all policy and [the campaign] is afraid to use celebrities to help promote the ideas. A balance really works. For some interviews we had an economist, someone from NRDC, and a few athletes so it wasn't all one thing and they could all bring a different perspective to it.
3. Try to have a timeline of releases instead of just one release related to the story: Don't use it all up in one blow. If you can stretch the story out over two or more different events, it's far more effective. Build that momentum.