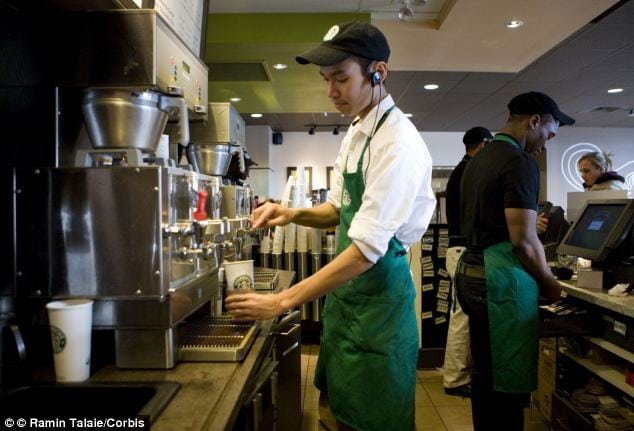 People refer to the new normal a lot. What it means remains to be seen. Does the new normal include large, apparently cash-rich companies asking landlords to renegotiate or defer rents? Perhaps the new normal includes large employers, such as Uber and WW (formerly Weight Watchers), laying off staff via Zoom?
After paying rent for April and May, Starbucks wanted a coffee break. Earlier this month it sent a letter to thousands of landlords seeking changes to leases and base rent, the Wall Street Journal and Seattle Times reported.  The company refused to comment about the articles. In addition, it did not say how many landlords it sent the letter to, what concessions it's seeking or the state of negotiations.
Other large food brands or their franchisees seeking relief include Shake Shack, Dunkin' Brands, Yum Brands, Applebee's, Jack in the Box, Ruth's Chris Steak House and Chipotle, according to the Journal. Unlike Starbucks, some brands spoke to media about the issue. A few said they've reached accommodation with landlords.
The PR Angle: Reputation
A question for PR pros is how these stories might influence a company's reputation, now and after the pandemic. For example, does the public grouse that large companies may obtain rent relief when few landlords or banks are offering solace to apartment renters and home-mortgage payers, respectively?
Other questions for communicators: How much will stories, particularly those about Uber and WW, hurt future recruitment? And will a company's charitable work during the pandemic insulate it from a reputation ding?
Tone is Important  
In Starbucks' case, the company wrote to landlords of properties where it owns outlets. There are 8,900 company-owned Starbucks stores, the Times says.
The letter, leaked to both papers, says the coffeemaker "will require concessions [for 12 months] to support modified operations and adjustments to lease terms and base rent structures, so we can withstand this uncertainty together."
Both papers said landlords were incredulous. "A company with an $86 billion market capitalization should be able to raise debt or more equity in the capital markets, enabling it to meet its obligations, these landlords said," the Journal wrote.
Embrace the Ask
Starbucks' tight-lipped response might not be the best tactic.
"As a first rule of thumb, don't be defensive" about seeking relief, says Hinda Mitchell, president of Inspire PR Group. "Being straightforward about why the company is making this ask – and why it is needed – is essential," Mitchell adds.
Yet "many large companies don't necessarily want to publicize financial constraints," says Meredith L. Eaton, director, N. America, Red Lorry Yellow Lorry. Without a bit of transparency, however, the public won't know much about issues large brands are facing.
Indeed, many members of the public don't understand restaurants' narrow margins. While a pandemic "is not the time for a full-on lesson about the hospitality business," Mitchell believes it can benefit brands "to remind audiences that limited in-restaurant capacities, combined with two months of shutdowns, have put many restaurant companies in catch-up mode financially."
The Public Wants to Know
Without offering a few details, the court of public opinion likely will oppose big restaurant brands seeking relief. "Companies, especially those with well-known public-facing brands, need to proactively plan for media and customer interest in how they react to and seek relief during the COVID-19 pandemic," says Zach Olsen, president of Infinite Global. He points to the scandal over big brands, including Shake Shack and Ruth's Chris Steak House, initially taking PPP money destined for small businesses.
Mitchell notes the tone of the ask is critical too. "Show genuine understanding and appreciation for the ask," she says. A brand might say, 'We are grateful to our landlords for their support of our business and our employees, and for positioning us for success as we reopen.'
Transparency Helps
Adds Olsen, brands should use "sound and transparent messaging" that addresses why they are seeking relief. "If planned for properly, this can be an opportunity for brands to connect with their stakeholders and avoid being cast as cash-rich companies trying to game the system."
Eaton recommends brands demonstrate steps they've taken to sure up operations. "Things like reducing executive pay, freezing hiring, cutting back on employee perks, or even eliminating 401K matches can show that the company is doing everything it can before resorting to other options."
Cast in a Good Light
It's also important to include language that ties an ask to the greater good, Mitchell says. For example, 'This is an important step in our recovery and in our ability to get our teams back to work.'
A variation on the greater good theme is to combine the ask with community service. For example, big brands seeking rent relief could embrace a caring-citizen motif, says Arthur Solomon, a former SVP and counselor at Burson-Marsteller.
"Ask landlords to partner with you in helping provide free food for the growing number of unemployed," he says. Large brands, Solomon continues, must "clearly communicate" that they will pour all rent reductions into helping the needy. It could be a win-win for the renter and  landlord, he argues.
In addition, the landlord's bank could become involved. After all, the bank will need to forgive the landlord should it provide relief to the renter.
Doing good rarely is a bad thing. Sometimes being philanthropic can help absorb a reputation hit. Fortunately, few firms have done more good during the pandemic than Starbucks. Similarly, 68 percent of respondents in a PRNEWS poll last month said brands doing good during the pandemic will see quantifiable financial and reputation gains once the economy recovers.  
"Donating goods or pivoting their operations to create health and safety supplies can go a long way to preserving [brands'] communities and reputations amid the pandemic," Eaton adds.
Furloughs and Reputation
Salary cuts, furloughs, layoffs and media stories about them certainly seem destined to be part of the new normal. For PR pros working to protect a brand's reputation, how layoffs are communicated and the circumstances around them will continue to be critical.
The new normal might feature more layoffs over Zoom, similar to those from Uber and WW. Zoom "is just a new tool in management's kit for terminating employees," says Solomon. "Firing people via technology is in its infancy," but will become the norm, particularly as more large companies allow employees to work from home, he says. Perhaps. Yet until the day Zoom firing become normal, layoffs will remain dicey.
Look at the CEO of iconic brand Rolls-Royce, who took a layoff-related hit this week. Discussing some 9,000 layoffs with the BBC, CEO Warren East appears distracted, seemingly grinning to someone off-camera (see video below).
Difficult Dance
More evidence that communication of layoffs is a difficult dance: social media slammed "The Atlantic" yesterday when it laid off 17 percent of its staff.
One of the oldest magazines in the country, The Atlantic garnered 90,000 new subscribers recently, mainly owing to excellent coverage of the pandemic. The company touted 36,000 new subs in an upbeat memo to staff in early April.
In 2017, billionaire Laurene Powell Jacobs Jobs acquired a majority position in The Atlantic. The next year, the company expanded, adding 100 jobs. In the court of public opinion, there's no way The Atlantic should lay off staff.
Again, as in the Starbucks/restaurant example, details can help explain layoffs. Still, all that most people hear is the headline: 'The Atlantic laid off staff and the owner is a billionaire.'  While subscriptions are buzzing during the pandemic, The Atlantic's events business, a major expansion for the brand, was pulverized. Advertising suffered too. It's anyone's guess as to the extent of The Atlantic's reputation hit.
A More Normal Scenario
On the other hand, it seems the public understands layoffs, at least now. More than half (54 percent) of US adults said they would be neither more likely nor less likely to do business with a company that laid off or furloughed staff during the pandemic, according to a Clyde Group survey of 1,000 respondents in early April. In addition, 22 percent said they'd be somewhat less likely or less likely to do business with such companies.
"Bad news itself isn't the problem in the minds of consumers," says Alex Slater, Clyde Group's founder and chief strategy officer. "In fact, companies get extra perceptual credit by communicating clearly and transparently, no matter how bad the news is," he adds. In conclusion, when companies "communicate bad news the right way, consumers are likely to keep doing business with them," he says.
Seth Arenstein is editor of PRNEWS. Follow him: @skarenstein