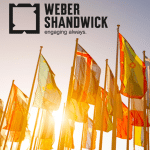 2017 CSR Awards
Agency CSR A-List
Weber Shandwick
Weber Shandwick's clients include Nike, Unilever, Pearson and Genentech. The agency works with them to build strong communications platforms and execute public, media and social engagement campaigns to communicate how they are creating purpose-driven businesses.
Drawing on professionals from across the agency's global network, Weber's social impact specialists have developed a track record as passionate storytellers, content creators and advocates. Weber Shandwick's Social Impact offering stands out for its global perspective and reach across 126 offices in 81 countries, cross-practice expertise and a legacy of strong work in the corporate sector and the nonprofit and foundation sectors.
In 2016, Weber Shandwick partnered with Pearson to launch the "Alphabet of Illiteracy" as part of their global Project Literacy campaign. The launch kicked off with model and campaign ambassador Lily Cole giving a speech in the UK Parliament to MPs, media, influencers and Project Literacy partners and stakeholders, telling of the real cost of illiteracy and how it impacts so much of the world today.
In the U.S., Weber Shandwick launched the "Alphabet of Illiteracy" on the 50th Annual International Literacy Day through a massive influencer campaign on social media, garnering 225 media articles and over 1 billion media impressions.
Weber Shandwick also continues to partner with Bank of America as global agency of record for CSR, working in 20 offices across the U.S. and up to a dozen offices globally. In the U.S., Weber Shandwick implements a local outreach campaign in more than 77 markets which focuses on the impact of the bank's commitment to environmental, social and governance (ESG) principals.