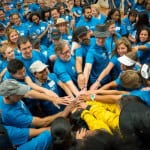 2017 CSR Awards
Agency CSR A-List
VOX Global
VOX Global helps corporations, including AT&T, Bank of America, Kellogg, Ingersoll Rand, Union Pacific and Washington Gas, develop and communicate their commitments to communities through purpose-driven programs.
VOX also works for a wide range of nonprofits and foundations committed to social good, including Conservation International, World Business Council for Sustainability, Genesys Works, the Lumina Foundation, the Beau Biden Foundation, the Addiction Policy Forum and others.
VOX's counsel has helped its clients earn top reputation awards. Just this year, AT&T was listed as the #1 Communications Company in The Civic 50's Most Community Minded Companies, and Bank of America was included in Fortune's Change the World list. VOX has also worked with clients to secure spots on the Dow Jones Sustainability Index and Fortune's Most Admired Companies.
In 2016 alone, VOX's support to drive positive media coverage for Bank of America's global environmental sustainability team helped the company secure over 160 media placements and 20,000 social engagements. The company ranked #16 on Fortune's Change the World List for its work to help finance the transition to a low-carbon economy.
During the COP21 negotiations in Paris, VOX helped place six Bank of America executives as speakers at 18 events and garnered nearly 9,000 social media mentions and over 41 million social media impressions, the largest share of voice among the financial service sector on social. Traditional media mentions included coverage in The New York Times, Fortune, Financial Times and CNBC.