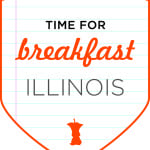 2017 Nonprofit PR Awards
Advocacy Campaign and Lobbying Efforts
Share Our Strength – Time For Breakfast Illinois
Share Our Strength - Time For Breakfast Illinois
By partnering with key constituencies, educators and stakeholders throughout Illinois, No Kid Hungry Illinois used a multidimensional public relations campaign to persuade state legislators to pass Breakfast After the Bell legislation.
In Illinois, one in five children live in families that struggle to put food on the table. No Kid Hungry is fighting every day to change this—and it's working. An undeniable contributor to the recent success has been state legislative bodies. Throughout the country, No Kid Hungry has persuaded state legislatures to join the campaign to end childhood hunger. This year, No Kid Hungry targeted the Illinois legislature, challenging it to increase access to school breakfast.
No Kid Hungry designed an advocacy campaign and lobbying efforts around "Time For Breakfast Illinois"—No Kid Hungry's initiative to pass school breakfast legislation in Illinois during the 2016-2017 legislative session.
The strategy required engaging and activating constituent supporters through social media and mass email marketing, utilizing paid and earned media, organizing local hunger partners to underscore No Kid Hungry Illinois' core messages, soliciting corporate partners and celebrity supporters to advocate on behalf of the legislation and hosting both Illinois' Hunger Summit and a Lobby Day at the Illinois capitol.
No Kid Hungry executed an all-encompassing advocacy campaign that utilized public support, corporate partners, celebrity endorsers and intense lobbying efforts. To activate network supporters, No Kid Hungry contacted individual constituents by email and social media.
In June 2016, the Illinois General Assembly unanimously passed the Breakfast After the Bell bill, with votes of 113-0 in the Illinois House and 58-0 in the Senate. And in August, Gov. Rauner finalized the process by signing the bill into law, expanding school breakfast for 175,000 low-income students by requiring high-need schools to serve Breakfast After the Bell. The increase in breakfast service begins during the 2017-2018 school year among schools with more than 70 percent of students eligible for free and reduced-price meals.
Honorable Mentions:
American Association of Nurse Practitioners - Veterans Deserve Care
Consumer Technology Association - 2016 Innovation Scorecard
Energy Efficiency Communicators Network – An Inaugural, Nationwide Energy Efficiency Day
Erwin Penland - Evolve - PSA: "An American Man in America"
National Hydropower Association - UnlockHydro
SKDKnickerbocker / Shatterproof - Fighting the Opioid Epidemic with PDMPs