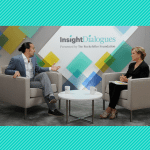 2017 CSR Awards
Agency CSR A-List
RF|Binder
RF|Binder recognizes the importance of incorporating CSR into every aspect of a company through fully integrated strategies. RF is not just a public relations agency but a strategic partner for its clients, including McGraw Hill Education, Cargill, Johnson & Johnson, Dunkin Donuts, CVS Health and Hasbro, working on an entire ecosystem of issues that matter to clients' ability to thrive, including the many threads of CSR and sustainability.
For example, shortly after CVS Health decided to stop selling tobacco, it became clear the company could have great impact on one of the most pressing public health issues we face today: youth tobacco use. RF|Binder worked closely with the company to develop and launch Be The First, a five-year $50 million initiative to help deliver the nation's first tobacco-free generation. Through this initiative, launched in 2016, the company extended its commitment beyond selling tobacco to helping people lead tobacco-free lives.
Recognizing that tobacco use is the leading preventable cause of disease and death in the United States and that youth use of some tobacco products is on the rise, Be The First comprises comprehensive education, advocacy, tobacco control and healthy behavior programming in partnership with organizations uniquely positioned to tackle this public health challenge.
RF helped ensure the initiative had clear, actionable and measurable goals over a five-year period, including contributing to a 3% decline in the national youth smoking rate, a 10% decline in the number of new youth smokers and doubling the number of tobacco-free college and university campuses.