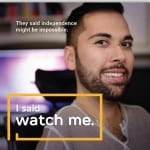 2017 CSR Awards
Philanthropy Communications
RF|Binder – Muscular Dystrophy Association asks Americans to Defy the Impossible and "Live Unlimited"
To develop the concept that would serve as the anchor for this Muscular Dystrophy Association (MDA) campaign, RF|Binder dug deep into the meaning and feeling behind living with muscular dystrophy. For kids and adults with muscular dystrophy, ALS and other muscle-debilitating diseases, the freedom to walk, talk, run, play, laugh, hug, eat and breathe is not always available.
The ideation of Live Unlimited came from tapping into the insight that many kids and adults who are living with such diseases are still doing remarkable things every day, demonstrating that physical limits don't hold them back from living life to the fullest. By focusing on their courage, strength and pursuit of can-do moments, the Live Unlimited campaign was born, with the goal of shifting the conversation from physical limits to unlimited potential.
RF|Binder launched the Live Unlimited campaign on June 20, the first day of summer, marking the beginning of the 6-week effort. On this first day, the campaign kicked off a 12-hour celebration of music in partnership with What's Trending, where popular artists livestreamed special Live Unlimited performances on their own Facebook pages.
In addition, celebrities and digital influencers, including Carly Rae Jepsen, Mario Lopez and Nancy O'Dell, shared their own Live Unlimited moments on their social networks. In the weeks that followed, the RF|Binder team conducted ongoing media relations outreach to national top-tier media to tell the stories behind the Live Unlimited campaign and MDA's evolution as a national charity.
MDA was the first nonprofit organization to use Facebook Live as part of a national fundraising campaign, and the overall campaign resulted in 35-million plus earned media impressions.
Honorable Mentions:
Food Lion Feeds - The Great Pantry Makeover II
Havas PR - #GivingTuesday: The Day the World Gave Back
Hyundai Motor America & APCO Worldwide - Hyundai Hope On Wheels, Every Handprint Tells a Story