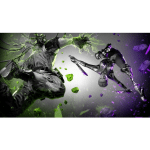 2017 Social Media Awards
Twitter | Campaign to Increase Followers
Nexon America and Wonacott Communications – Putting Community at the Forefront, an Icon Looks to Redefine A Competitive Videogame Genre & the Way We Market Games
Working with Wonacott Communications, Nexon America decided to debut its new first-person shooting game LawBreakers at PAX Prime, an annual event in Seattle that draws thousands of hardcore gaming, comics and entertainment enthusiasts. In all, over 6 million social media impressions were secured, drawing the attention of fans, consumers and media.
Rather than using traditional PR tactics and going to the press first, Wonacott took LawBreakers to the fans, inviting them to an exclusive offsite event during PAX Prime, where they could be the first people to experience the game hands-on.
The week prior to PAX Prime, LawBreakers was revealed for the first time via a teaser site that counted down to a surprise livestream featuring videogame developer Cliff Bleszinski. This was the beginning of the "fans first" drive.
The livestream was leveraged to answer questions about LawBreakers from press and fans alike, debut the first gameplay trailer and invite players to the private offsite event for the first hands-on opportunity with the game—before any press had seen it.
The offsite space was not heavily branded, but instead made to feel like an exclusive club, with red and blue lighting representing the game's two factions—Law and Breakers. Fans entered downstairs, where they were offered snacks and drinks in a lounge space with a DJ. From there, they were led in groups of ten to a walled-off briefing room, where they were given a rundown of the content on display. Once they had been briefed and signed an NDA, they were taken upstairs where ten stations awaited, and they became the first to play LawBreakers.
Within the community more than 800 core members and influencers played the game during PAX Prime and shared 300 viral kill videos on Twitter, combined with over 3,000 Twitter mentions. In total, LawBreakers' presence at PAX Prime garnered an estimated 11.2 million impressions based on tweets and mentions.
Honorable Mention:
Loyola Marymount University - Talkin' Twitter with @LMUSnyder