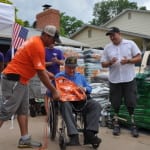 2017 Nonprofit PR Awards
Social Responsibility Campaign/Initiatives
MSLGROUP – Celebration of Service: An Army of Associates Creates Independence at Home for U.S. Veterans
MSLGROUP - Celebration of Service: An Army of Associates Creates Independence at Home for U.S. Veterans
In its previous four years, Celebration of Service helped create lifelong meaningful relationships between the Home Depot, neighbors and associates. In 2015, the effort needed to go further. A rallying cry needed to engage a passionate workforce and enlist consumers to join Team Depot's efforts to help veterans. Associate engagement had the chance to inform and enhance the campaign's strategy and success.
Working with MSLGROUP, The Home Depot Foundation was challenged to implement a campaign that would continue to inspire the workforce and better engage nonprofits and consumers. As part of the effort, the foundation launched the #ServiceSelfie social giving campaign to engage associates, consumers, nonprofit partners and media nationwide. Associates were encouraged to celebrate their efforts to give back in their communities, and The Home Depot Foundation committed to donating $1, up to $1 million, for each social media action.
Home Depot also brought districts together and activated store and Store Support Center associates with a leadership challenge, "One District, One Project" calling for fewer, more impactful projects and stronger connections through grassroots internal communications. For the first time, store and Store Support Center associates worked together on a campaign-long effort in The Home Depot's hometown of Atlanta with one consistent nonprofit partner.
Across six internal channels, excitement was built with pre-launch content: The Home Depot TV slides visible to associates in all stores and company facilities, store break room posters and a teaser video. Throughout the campaign, Celebration of Service was shared with associates through three articles in the "Doings in Our District" internal company newsletter, eight stories featuring Team Depot projects on the company's intranet, and full-page coverage in Orange Magazine, which is sent to the home of every associate.
The Home Depot Foundation's 2015 Celebration of Service created safer, more accessible homes for more than 750 veterans and their families. Approximately 13,286 Team Depot volunteers in 315 cities partnered with 291 nonprofits to work on 367 volunteer projects. The #ServiceSelfie campaign increased the program's reach on social channels as consumers and associates contributed more than a million social actions to raise $1 million for nine veteran-focused nonprofits.
Honorable Mentions:
Hill+Knowlton Strategies - Victory: Invictus Games Orlando 2016
KCETLink Media Group - Your Choice. Your Voice.
Paul Werth Associates on behalf of the National Safe Boating Council - North American Safe Boating Safe Boating Campaign
Porter Novelli - Social Success for Social Good: Junior Achievement of Georgia
USA Swimming Foundation - Make a Splash