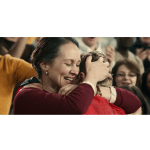 2017 Social Media Awards
Twitter | Promoted Tweet Campaign
Marina Maher Communications – P&G Thank You, Mom Creating Virality to Dominate a Crowded Conversation
P&G's Thank You, Mom campaign captured the hearts of moms worldwide over the course of three Olympic Games.
In their fourth turn as an Olympic sponsor in 2016, the company needed to launch its creative in a new and exciting way that would break through to its key demographic and own the Olympics and Mother's Day conversation ahead of Rio.
Working with Marina Maher Communications, P&G sought to make the newest Thank You Mom video, "Strong," a viral success by driving a high volume of high-quality views at launch—ensuring the company would be the most talked-about Olympics sponsor.
P&G's influencers launched the video, utilizing their following to kick off the conversation. Then its Command Center stoked the flames of conversation with a response, targeting and amplification strategy developed from understanding the conversation needs in advance and that also adapted to trending conversation streams in real time. All influencer content (whether organic or sponsored) was amplified with paid media.
With an integrated team command center, the PR team followed the news and social conversation and responded with creative in real time, creating a surround sound effect with earned fueling owned fueling paid in hundreds of revolutions.
And in mere hours, Strong was all anyone was talking about. The campaign led P&G Thank You, Mom to be the top Olympic sponsor in size and sentiment 100 days prior to Rio.
Honorable Mentions:
Preferred Connect Insurance Center - California Breweries
U.S. Travel Association - Election 2016 Industry Positioning: Travel. More Than Fun. Serious Business.