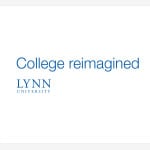 2017 Nonprofit PR Awards
Annual Publication or Brochure
Lynn University Viewbook
Lynn University set a bold new direction in fall 2013 when it launched one of the nation's most extensive iPad-powered learning programs. One of its greatest benefits: The program saves students up to 90% on materials by replacing textbooks with faculty-produced e-books.
Since the program's launch, Lynn has twice earned recognition as an Apple Distinguished School, as its vision for a whole new style of teaching and learning has become a reality.
Lynn's in-house marketing and communication department developed "College Reimagined," an integrated marketing campaign that considered input from students and university leaders. A key asset for the campaign is the university's printed viewbook brochure, used as a recruiting tool for prospective students.
As one of only a few U.S. universities to implement this innovative tablet-based learning program to 100% of its students, Lynn sought to leverage its first-mover advantage. The overall strategy for the viewbook was to highlight the university's differentiation as an early adopter of Apple technology.
The viewbook was designed with the university's brand strategy in mind. The design style is characterized by simple design and white backgrounds that put the Lynn name and Lynn blue in the foreground, and colorful photography that showcases the university's people and campus.
As of fall 2016, Lynn's undergraduate enrollment was up 25% over the previous five years. The number of prospective student inquiries increased 18% between fall 2015 and fall 2016, and the university received 15% more completed applications. In a survey of prospective students, 70% of traditional students and 65% of adult students said the "College Reimagined" message increased their interest in Lynn. In a survey of Lynn students, 70% said the iPad influenced their decision to come to Lynn.
U.S. News & World Report ranked Lynn among the nation's most innovative colleges in fall 2016. Lynn's innovations were featured by Inside Higher Ed and Forbes, among other national and trade media outlets. Lynn faculty and administrators have been invited by and presented to dozens of other universities in the U.S., Japan and Ireland to demonstrate on-campus mobile technology best practices.
Honorable Mentions:
AAP Foundation
Central Asia Institute - Journey of Hope
Golden Gate National Parks Conservancy - 2016 Report to the Community
Kenneth Rainin Foundation - Turning Points: 2015
Porter Novelli on behalf of Healthcare Georgia Foundation - Taking Care of You