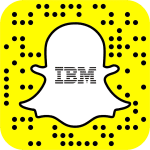 2017 Social Media Awards
Snapchat | Best Snapchat Campaign
IBM on Snapchat
In spring 2016, IBM launched its official corporate Snapchat account. What makes this project special is the approach IBM took, which is a first of its kind for IBM and potentially for any other B2B brand: It chose to make the account available to any employee or team upon request.
With more than 350,000 employees worldwide, IBM decided that it would make its Snapchat account available to any employee who wanted to share a story. IBM put documents and guidelines in place to help shape expectations for stories, and announced the approach through an internal blog post.
IBM developed an official submission guide and shot list template that are required for all requests. Employees/teams must fill out the basis of their request and provide a draft of snaps that will be included in their story. Employees must also certify that they have read and understand IBM's Social Brand Guidelines in order to use the account.
IBM launched its strategy and the documents through an internal blog post inviting employees to submit ideas. The corporate social team maintains the central calendar, the account login credentials and manages requests. IBM cross-promotes stories across its other social platforms in order to drive users to Snapchat. In one case, IBM worked with an influencer to do a takeover of its channel in order to drive awareness.
Since launching its account in April 2016, IBM has shared more than 50 stories across six continents, showcasing a breadth of roles, events, types of stories, offices and cultures. IBM is seeing average story completion rates of 73%, and its CEO recently made her first appearance on Snapchat as well.
Honorable Mentions:
Cisco Talent Brand Team - WeAreCisco
Everywhere Agency - #CoxSmartHome Snapchat Activation
Las Vegas Convention & Visitors Authority - DJ Khaled Launches Vegas Snapchat
Live Nation Entertainment - Ariana Grande Snapchat Tour Campaign
Live Nation Entertainment - Florida Georgia Line Snapchat Takeover
Seminole Hard Rock Hotel & Casino Tampa - Making Strides Against Breast Cancer Filter