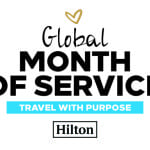 2017 CSR Awards
Volunteer Program
Hilton – Global Month of Service
Hilton's Global Month of Service is a time to celebrate the projects and community partnerships that Hilton's teams engage with all year long. The month-long celebration is a time where additional tools, support and recognition are provided to teams in order to increase awareness and drive engagement by sharing best practices on how to create partnerships and organize volunteer projects.
For example, team members at DoubleTree by Hilton Houston Downtown helped deliver meals to over 1,400 youths for Kids' Meals Houston, and provided insight on preparing for future careers. The team also developed an ongoing year-round program, delivering meals and providing one-on-one soft skills training.
The Homewood Suites by Hilton - North Charleston/Airport partnered with the Charleston Lowcountry Food Bank, donating food, water and daily necessities. This work had particular significance as the community (and team members) were still recovering from a recent flood. Volunteers also helped to clean up road and structural damage.
Led by Hilton Grand Vacations President Mark Wang, more than 150 team members at the Orlando corporate office assembled over 1,250 care packages for members of the U.S. military serving overseas and for their local homeless community.
In 2015, team members united to work on over 4,145 projects contributing more than 213,000 volunteer hours in 92 countries. Since Global Month of Service's inaugural service celebration in 2012, Hilton volunteers have completed more than 10,800 projects worldwide, contributing over 513,000 hours of community service.
Honorable Mentions:
Anthem Associate Giving Program - Building Healthy Communities
AOL - Monster Help Day
Cambia Health Solutions - Harnessing Employee Volunteer Power for Global Health Care Change
Discover Financial Services - Discover Cares: Using Expertise to Drive Volunteerism
Mastercard - Girls4Tech
Pizza Hut - Life Unboxed Volunteers
Teva Pharmaceuticals - Teva Tov
Thermo Fisher Scientific - STEM Education Program