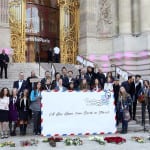 2017 Nonprofit PR Awards
Social Responsibility Campaign/Initiatives
Havas PR – Earth To Paris: A Global Movement for Bold Planet Action
Havas PR - Earth To Paris: A Global Movement for Bold Planet Action
The strategy at the heart of Earth To Paris was unity. Complicated and often polarizing, climate change can be difficult to communicate and elicit action around. By engaging in this dialogue with people and communities worldwide—those people who would not be physically present at COP21 or Le Hub—and bringing together media with different points of view, the goal was to make the collective voice of Earth To Paris as powerful as possible. The message Havas worked to send: We are all important to our planet.
Earth To Paris culminated at the UN Climate Change Conference (COP21) in Paris, but thanks to more than 80 locally hosted watch parties and digital activations in 67 countries/territories, people from all six inhabited continents tuned into the live-streamed, multilanguage feed. As the coalition held events in Paris and around the world on Dec. 7 and 8, 2015, a 36-hour global digital surge of Twitter chats, Google Hangouts and other digital activations was simultaneously taking place.
The #EarthToParis hashtag took off. A major global trend on Twitter both days of the summit, it hit nearly 1 billion impressions and was mentioned in an NPR story about hashtags that made a mark in 2015. It continues to be a vehicle for climate support. #EarthToParis was also included in more than 68,000 tweets from 16,000-plus unique contributors.
Alongside UN agencies, NGOs, media and corporations, leading voices in the surge included Alec Baldwin, Gisele Bündchen, Paris Mayor Anne Hidalgo, Linkin Park, Pharrell Williams and the White House. And John Kerry filmed his very first Snapchat story direct from Earth To Paris. Havas' work helped to frame a worrisome issue in a positive way that turned words into action—including earned media coverage in more than 300 outlets in 15 countries with impressions exceeding 1.1 billion—with 99 percent of coverage either positive or neutral.
Top outlets included Associated Press, Agence France-Presse, CBS News, Channel NewsAsia, Financial Times, The Independent, Japan Times, Le Figaro, L'Opinion, Los Angeles Times, Mashable, The New York Times, NPR, Reuters TV and The Times of India. The #EarthToParis movement ultimately reached more than 78 million individuals.
Honorable Mentions:
Hill+Knowlton Strategies - Victory: Invictus Games Orlando 2016
KCETLink Media Group - Your Choice. Your Voice.
Paul Werth Associates on behalf of the National Safe Boating Council - North American Safe Boating Safe Boating Campaign
Porter Novelli - Social Success for Social Good: Junior Achievement of Georgia
USA Swimming Foundation - Make a Splash