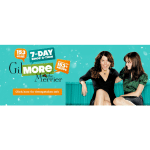 2017 Social Media Awards
Twitter | Best Marketing Campaign
Everywhere Agency – UP TV's #GilmoreTheMerrier Twitter Activation
UP is a national TV cable network that currently airs the cult television series of the early 2000's Gilmore Girls. UP saw a great opportunity to gain viewership of the show's reruns by capitalizing on the Netflix Thanksgiving revival release of Gilmore Girls: A Year in the Life.
With that in mind, UP aired a 153-hour binge-a-thon of all seven seasons of Gilmore Girls, featuring every episode in chronological order leading up to the exact moment of the Netflix release.
This campaign sought to prove that social media can directly impact and drive viewership of UP's programming in key demographics and that the use of Twitter and influencer marketing could bolster engagement, followers and the number of entries into the #GilmoreTheMerrier sweepstakes.
In order to drive social media participation, each episode asked fans a trivia question that only appeared on screen. Viewers were then asked to answer via Twitter using the campaign hashtag #GilmoreTheMerrier. From those who tweeted the correct answer, a winner was picked at random by a bot each hour and awarded an original #GilmoreTheMerrier badge, a small prize and ten entries to win a grand prize that any Gilmore Girls super fan would love. These prizes ranged from a Skype session with one of the cast members to a trip to Los Angeles to tour Warner Brothers studios.
Community managers liked, followed and retweeted anyone using the hashtag #GilmoreTheMerrier or tweeting at @UPtv during the entirety of the 153 hours. They answered questions about how the sweepstakes worked and were able to mitigate any negative sentiments surrounding the selection of winners. The community managers also created content and commented on the show happening in real time. This consistency and authentic communication created a feeling of community and solidarity that kept some Twitter followers participating for 12 hours straight.
When all was said and done, the hashtag #GilmoreTheMerrier received 309+ million impressions on Twitter, with supporting social media sites creating an overall 317+ million impressions. And, on Nov. 23, midway through the activation, UP garnered the largest audience in network history.
Honorable Mentions:
A&E Television Networks - Critics' Choice Awards Social Suite
Citrix - Synergy Submission
Esurance - Pass It On
Marina Maher Communications - P&G Thank You, Mom Creating Virality to Dominate a Crowded Conversation
Weber Shandwick & M&M'S - 2016 Flavor Vote