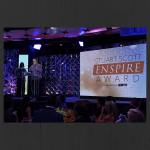 2017 CSR Awards
Event CSR/Green Focus
ESPN – Sports Humanitarian of the Year Awards
ESPN developed the Sports Humanitarian of the Year Awards in 2015 to celebrate and honor athletes, teams, nonprofits and members of the sports industry for using sports to serve their communities and make a positive impact on society.
The event was the first of its kind in the U.S, representing the first time the leagues and sporting community have come together to pay tribute to the collective good of sports in the United States. In 2016, ESPN looked to replicate the event's success. The second annual Sports Humanitarian of the Year Awards on July 12, 2016 went far beyond ESPN'S expectations and made an even greater impact on the community and the business.
To ensure many high-quality nominations and to recognize the outstanding work of the nominees, ESPN put its own skin in the game by donating $100,000 to the charities of choice for each of the winners, $25,000 to each of the finalists' charities and $50,000 on behalf of each of the Stuart Scott ENSPIRE Award honorees. ESPN doubled the grants to the winners in 2016 to provide even more of an incentive to participate.
To promote the Awards and bring value to sponsors, ESPN platforms were used to create buzz about the finalists' work in the community. In addition to traditional media and social media outlets, ESPN used its own resources, including developing a special on the network, running an ad in ESPN Magazine and producing stories on ESPN.com and its social accounts to further the conversation.
A total of $785,000 was raised for the Stuart Scott Memorial Cancer Research Fund at The V Foundation ($185,000 more than the previous year). Additionally, ESPN donated $955,000 in grants in recognition of the honorees, for a total of $1.7 million distributed to the community. The Awards received positive press coverage from dozens of outlets including Associated Press, USA Today, AdWeek, SB Nation, The Insider, Yahoo! Sports and The Boston Globe.
Honorable Mentions:
Burson-Marsteller and BVK - CITGO Caring for Our Coast
Extended Stay America – Hotel Keys of Hope Cancer Survivors Reunion
Food Lion - The "Feedys" Awards: Feeding Our Community by Empowering Our Food Banks
Havas PR - An Education Summit to Address Arizona's Teacher Crisis: Let's Talk Ed
Mary Kay Inc. - Global Day of Beauty 2016