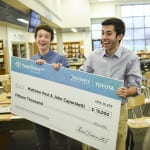 2017 CSR Awards
Video Initiatives
Discovery Education and Toyota – TeenDrive365 Video Challenge
Toyota and Discovery Education partnered to create TeenDrive365: In School, a comprehensive engagement program anchored by an online information hub that provides safe-driving tools and resources to students and teachers.
A major component of this program is the TeenDrive365 Video Challenge, which aims to help students inspire each other to drive safely and to motivate them to become proactive in curbing the deadly problem of distracted driving. The Challenge encourages students in grades 9-12 to create original videos describing what they can do in their communities to help make their peers and themselves safer drivers, and then upload their videos to YouTube.
Additionally, a panel of judges from Discovery Education, Toyota, educators and community leaders selected a first, second and third place winner, as well as four regional winners. The winners were selected based on the creativity, content and presentation of their videos. The grand prize winner received $15,000 and will work with a Discovery film crew to reshoot their video as a professional, TV-ready PSA, which will run on Discovery's networks. The second place winner was awarded $10,000 along with a trip to attend a taping of a Velocity network show and the third place winner received $7,500. The additional seven finalists received $2,500, and four regional winners received $1,000.
The 2016 TeenDrive365 Video Challenge saw registrants from all 50 states. There were also more than 1,500 entries for the 2016 Challenge—the most submissions in the six-year history of the competition. Video views skyrocketed with nearly 36,000 views and tens of thousands of votes placed for the top ten finalists. Media coverage of the Challenge garnered more than 16 million impressions.
Honorable Mentions:
Cone Communications - Communicating an Innovative Approach to Sustainability through Film: Kombit - The Cooperative
Creation - Pizza Hut Changes The Story with Pizza Hut: The Literacy Project
Food Lion Feeds - The Great Pantry Makeover II
RF|Binder - Insight Dialogues presented by The Rockefeller Foundation
Thermo Fisher Scientific - Give Us Hope