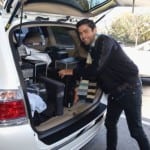 2017 CSR Awards
Recycling Program
Dell, PPR Worldwide and BWR Host NYC Tech Takeback With Adrian Grenier in Honor of America Recycles Day
To increase awareness of Dell's sustainability initiatives and to promote its recycling program, Dell brought on Adrian Grenier—actor, filmmaker, entrepreneur and sustainability champion—as its social good advocate.
In November 2015, to celebrate America Recycles Day, Dell and Adrian Grenier partnered with Goodwill Industries of New York and Northern New Jersey and Uber NYC for the NYC Tech Takeback event to help New York City residents easily recycle their old electronics.
Uber NYC provided free pickups of used electronics in Manhattan, Brooklyn and Queens courtesy of Dell. Uber vehicles transported items to Goodwill NYNJ's across the city, where they were responsibly recycled through the Dell Reconnect program. The Tech Takeback was a huge success reulting in over three tons of used electronics collected, 1.6 billion media impressions from Adrian Grenier's press tour in New York City and articles resulting from Dell's announcement of the event.
During the event, using the promo code DELLRECONNECT through the Uber app offered residents a no-charge pickup of technology items for the program. Live broadcast appearances were organized for Grenier on Bloomberg TV, Fox 5 NY and Huffington Post Live, and media outreach resulted in print and online coverage that highlighted the Dell Reconnect program and positioned Dell as a leader in e-waste recycling.
Following the Tech Takeback, ongoing social conversations about the event took place—including a #TBT post by Grenier on Instagram and Twitter to his 110,000 combined followers. Overall, #Techtakeback conversations saw a reach of over 5 million impressions on social networks, helped establish Dell as an industry leader in this space and spread the word of Dell Reconnect programs nationwide.
Honorable Mentions:
Hilton - Soap Recycling
Zappos - THINK - #ImNotABox Campaign