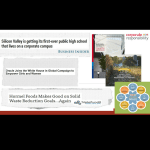 2017 CSR Awards
Agency CSR A-List
Burson-Marsteller
Through its diverse offerings and team expertise, the corporate responsibility team at Burson-Marsteller (BM) combines excellence in corporate responsibility and sustainability strategy, communication design and digital expertise to develop and execute companies' corporate responsibility work.
Beginning in late 2015, Burson-Marsteller began its work with FedEx to communicate its new global giving strategy, FedEx Cares. BM created comprehensive messaging detailing the story behind the five strategic pillars that comprise FedEx Cares (Delivering for Good, Sustainable Transportation, Employment Pathways, Road Safety and Global Entrepreneurship) while conveying the objectives of FedEx's giving strategy to key influencers and target audiences.
Following the announcement of FedEx Cares, BM continued its partnership with FedEx to manage media relations for the launch of the 2016 Global Citizenship Report. Key placements included the Memphis Daily News, Memphis Business Journal and mentions in USA Today and New York Daily News, garnering more than 197,098 impressions.
In 2016, Oracle approached BM to manage corporate reputation messaging and initiatives, including its corporate responsibility and sustainability narratives, as the company evolves into a cloud-computing powerhouse. BM's strategic media outreach plan coordinated coverage in top-tier publications like The New York Times, ABC News, Business Insider and NBC News.
On social media, there were over 414 mentions of Oracle in relation to the company's announcement to expand its computer science initiatives. Most importantly, during President Obama's address on expanded computer science initiatives, he specifically called out Oracle for the company's support of computer science education.