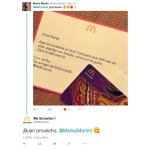 2017 Social Media Awards
Use of Technology
BodenPR – Escucha Digital Brand Newsroom
Escucha, created by Boden, is a proprietary Hispanic social media command center that blends social listening, influencer engagement, content planning and analytics. The pioneering service delivers U.S. Hispanic social insights, allowing for real-time engagement with Hispanic influencers and consumers, news-jacking and rapid response mechanisms.
In June 2016, BodenPR client McDonald's began leveraging Escucha as the brand's newsroom for the U.S. Hispanic market. The brand newsroom was activated with the objective of increasing brand awareness and positive perception for the McDonald's brand in the U.S. Hispanic market.
The overall strategy behind Escucha is to listen in on the top branded and non-branded social conversations in Spanish and overall Hispanic trends to garner target insights and develop social media strategies that serve businesses in real time.
Escucha creates a daily Hispanic insights report each morning that captures Hispanic trending topics, top Hispanic influencer conversations, Spanish-language headlines about a given brand and opportunities for brand engagement such as mentions of menu items in marketing windows, Hispanic influencers, media mentions, trending topics, cultural moments, etc.
An email report is delivered Monday through Friday to key McDonald's contacts, including marketing communications and social media team members. The brand reviews and approves suggested actions around brand-related engagement opportunities.
For example, McDonald's engaged offline with Telemundo TV host Jorge Bernal on his birthday, surprising him with mariachis at the 'Suelta la Sopa' studios and breakfast for the entire crew, including Jorge's favorite All Day Breakfast menu items. The engagement resulted in over 7.6 million organic social impressions and more than 203,000 total engagements, and was organically featured on the website Mamás Latinas.
Honorable Mentions:
CIG - CDOT Breathalyzer Program
Maryland Transit Administration - Launch of WTTZ-FM 93.5
United Technologies Celebrates 20th Anniversary of the Employee Scholar Program