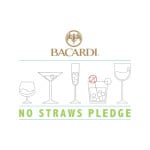 2017 CSR Awards
Stakeholder Engagement
Bacardi Limited – No Straws Pledge
The Bacardi No Straws Pledge has helped drive actionable, individual change to support the beverage company's global sustainability efforts in the area of water conservation.
The immediate goal was to have all brand homes, visitor centers and major offices eliminate plastic straws at in-house events—and the internal response from Bacardi was immediate. Within two weeks, all major offices, brand homes and visitor centers committed to remove plastics straws and stirrers from in-house events. This small and simple change will prevent an estimated one million straws/stirrers from entering landfills each year, making an impact in the fight to curb a pressing environmental issue.
Bacardi invited Surfrider Foundation, a non-profit grassroots organization dedicated to the protection of oceans and beaches, to talk about the impact of the No Straws Pledge. Mike Gibaldi, a board member of the Miami Chapter of Surfrider, noted that Bacardi is positioned to inspire real change. "As a large corporate citizen with great influence around the world, everybody is watching Bacardi. They're setting the example and affecting change," said Gibaldi.
The strategy included incorporating no straws messaging into employee communications and, in order to further spread accountability, make the No Straws Pledge public with the distribution of a news release. A budget was used to develop videos, distribute news and create assets for use at Bacardi offices and facilities.
In honor of World Water Day on March 22, 2016, Bacardi's global corporate communications department launched an internal pledge, asking the company's approximately 5,700 employees worldwide to join the fight to curb plastic waste. The call to action was simple: adding "no straws, please" to cocktail orders and committing to removing plastic straws and stirrers from all in-house, corporate events.
BOMBAY SAPPHIRE Distillery in England, which anticipated 80,000 visitors in 2016 and serves 14,000 cocktails each month, committed to completely eliminating plastic straws; Casa BACARDĺ Visitor Center in Puerto Rico estimates it will no longer use 360,000 straws annually.
Honorable Mention:
Delta Air Lines - The Hearts for Brussels Campaign