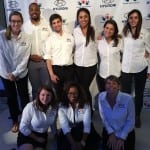 2017 CSR Awards
Agency CSR A-List
APCO Worldwide
APCO Worldwide has helped design and execute world-class corporate CSR programs for more than 30 years, and nearly a quarter of its $119-million-plus global revenue in 2015 was derived from environmental, social and governance-related work.
APCO aids clients in understanding, reaching and engaging their stakeholders using insightful counsel, authentic advocacy and creative communications, and its work has helped many organizations manage social and environmental risks to create value for a broader society.
Hyundai Hope on Wheels (HHOW), Hyundai Motorcar America's cancer-awareness nonprofit, retained APCO to support its 18th annual launch and events for Childhood Cancer Awareness Month. By positioning 2016 as a "quantum year" for pediatric-cancer research and focusing on heartfelt spokesperson stories, APCO garnered steady coverage for HHOW. APCO organized a live Twitter party with the Hyundai CEO, worked with celebrities to popularize #EndChildhoodCancer, and launched a digital portal where the public shared stories of personal missions against pediatric cancer. APCO secured more than a dozen interviews and won HHOW over 100,000 Facebook likes.
APCO's Sustainable Growth and Corporate Purpose practice, represented in its 30-plus global offices, helps clients navigate new markets such as those created by migration and found at the bottom of the pyramid; anticipate and serve evolving consumer expectations and demands, particularly in digitally connected economies; engage partners and critics to remedy global supply-chain inequities; pursue the promise of untapped human capital, especially among women and girls; and deliver new levels of transparency and disclosure and respond to increased interest in CSR from financial markets. APCO has assisted and continues to assist a wide variety of clients across CSR policy and reporting, stakeholder engagement and thought leadership/advocacy.