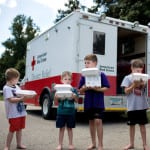 2017 Nonprofit PR Awards
Crisis Management
American Red Cross – Louisiana Flooding
It was called the worst U.S. natural disaster since Superstorm Sandy in 2012: In August 2016, prolonged rainfall in southern parts of Louisiana resulted in catastrophic flooding that submerged thousands of houses and businesses. Louisiana's governor, John Bel Edwards, called the storm a "historic, unprecedented flooding event" and declared a state of emergency.
Many rivers and waterways, particularly the Amite and Comite rivers, reached record levels, and rainfall exceeded 20 inches in multiple parishes. Because of the large number of homeowners without flood insurance that were affected, the federal government provided disaster aid through the Federal Emergency Management Agency (FEMA) while the American Red Cross responded with emergency shelters, food and additional relief.
The objective of this effort was to raise money for the American Red Cross to help those affected by the Louisiana floods. The strategy included promoting fundraising for Louisiana flooding to allow donors to specify the recipient of their donations. The team also leveraged celebrity partnerships to advocate and provide additional incentive for donations to the Red Cross and offered updates and insights into the American Red Cross response in Louisiana via national and regional social channels (Facebook, Twitter, Instagram and LinkedIn).
Twitter pitching was also used to reach journalists on the ground with up-to-date information in real-time. Red Cross spokespeople were on the ground to enhance pitching efforts, to offer responses to incoming media inquiries and respond to incoming media inquiries in a timely manner with accurate information. Daily national press releases via PRNewswire were also distributed to showcase the American Red Cross response.
In just one month, the Red Cross' efforts raised nearly $23 million. And, in terms of social outreach, average engagement per post exceeded 4,800—more than five times higher than the previous month.
Honorable Mention:
Camino Public Relations - Abortion Wars: using system dynamics to resolve crisis