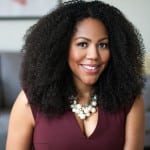 2017 Top Women in PR
Aliah Davis-McHenry
Social Media Program Manager
Consumer Reports
Aliah Davis-McHenry is a change maker. A PR and social media strategist and digital influencer, she is committed to developing relationship-based programs leveraging social media and digital storytelling.
Davis-McHenry has served on United Way and the Association for Women in Communications boards, lends her expertise by speaking at PR, social media and tech events and created the digital platform, The Fervency, to connect women in PR, social and tech. She makes bold moves to be part of the change she wishes to see in the communications industry.
Davis-McHenry created and manages the Social Ambassadors Program, the first of its kind at Consumer Reports. Through a vigorous vetting process, she showed tremendous effort working with 15 online digital influencers in a strategic way to reach new audiences and garner brand awareness and relevancy in new and untapped markets. Through these relationships, Consumer Reports engages market demographics previously beyond the reach of prior print and digital marketing efforts. This program is a key to transforming the Consumer Reports brand and building grassroots awareness of the various digital and social media platforms where Consumer Reports is engaged.
Davis-McHenry also worked diligently to spearhead the first Facebook Live live-streaming experience on Consumer Reports Facebook page. She approached senior leadership with a well-designed strategy outlining measures of success including providing quality and relevant content and reaching new audiences. Davis-McHenry worked with the video, editorial and communications departments to make sure Consumer Reports' first live video was on brand and on target, and its first Facebook Live, Everything Grills, garnered more than 61,000 views, 175 shares, and 720 likes.