Winner: The Asian Art Museum - Operation: Lost Warrior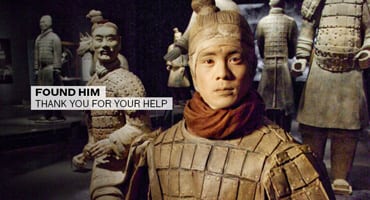 San Francisco's Asian Art Museum kicked off its 10th year in its Civic Center location with an exhibition from one of the greatest archaeological discoveries: China's Terracotta Warriors. The Emperor's First Legacy features 10 terracotta figures and 110 objects from underground sites surrounding the First Emperor's tomb and early Qin dynasty burial chambers.
To promote this blockbuster exhibition, AAM launched a tightly integrated PR and marketing campaign that was bold, memorable and unconventional. Its objectives were to create early awareness and buzz to help maximize exhibition revenue and attendance; generate awareness of the museum's location in San Francisco's Civic Center; position AAM as bold and living up to its new brand promise; and to "awaken the past, inspire the next."
The premise of the campaign was that along the way to AAM from China, one of the terracotta warriors gets separated from his friends and is now lost in the Bay Area. AAM sought the public's help locating and directing the lost warrior to the museum before the opening. The campaign featured over 30 partners, including media organizations, shopping centers, hotels, and tourist and cultural attractions.
The campaign's effect was amplified as partners got the word out and then again when the warrior made appearances at their location. During the campaign, traffic to the exhibition landing page tripled and the response on social media was overwhelmingly positive. AAM saw increased levels of engagement on Facebook, Twitter and Instagram and the campaign generated 15,000 new Twitter followers.
Honorable Mentions:
American Society for Aesthetic Plastic Surgery  - Knowledge is a Beautiful Thing
Center for Audit Quality  - CAQ Main Street Investor Survey
Fahlgren Mortine and Donate Life Ohio and the Ohio Department of Health's Second Chance Trust Fund  - Many Faces and Many Myths of Organ Donation
Silicon Valley Community Foundation  - "Vision" advertising campaign
U.S. Holocaust Memorial Museum 20th Anniversary National Tour & Tribute