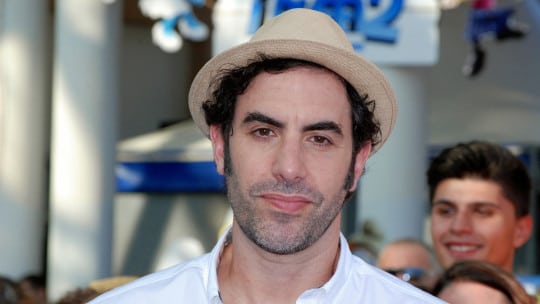 Any publicity is good publicity. So says the maxim, but is it true? In some versions of "The Boy Who Cried Wolf" story, the shepherd boy's bogus claims result in people taking action. They run to his rescue, even though there is no wolf. Eventually, as you remember, when a wolf really is attacking, nobody shows because the boy's credibility is shot.
Another PR tenet is don't say something to the press that can't be proven. Chances are an inquisitive reporter will research what's been said and see if it's true or not.
The animated PR campaign the English actor/comedian/singer Sacha Baron Cohen mounted during the past few weeks for his Showtime series "Who Is America?" has flouted these basics and been successful. Will there be a cost?
A Known Prankster
Known for inventing the white rapper character Ali G and for a controversial yet successful film "Borat," Cohen's latest stunt was to fool politicians into saying questionable things on camera. One had them endorsing a plan to teach youngsters, some as young as 4, to use arms so they could defend their schools against gunmen.
To get these endorsements, Cohen donned a disguise as an Israeli terrorism expert Colonel Erran Morad. The plan was called "Kinderguardians."
The pitch included a video with children's songs and gunimals, guns outfitted with soft toys. The plan called for specially selected tykes to learn the basics of mortars and receive instruction in using pistols, rifles and semi-automatics.
Retired U.S. Sen. Trent Lott and other politicians bit. Lott is shown on camera apparently offering kudos to Morad's plan. Lott says: "I support the Kinderguardians program. We in America would be wise to implement it...putting guns in the hands of law-abiding citizens..." is a good idea "whether they be teachers, talented children or highly trained preschoolers."
Another duped pol, Rep. Dana Rohrabacher, says, "Maybe having young people, trained and understanding how to defend themselves and their schools, might actually make us safer."
Funny or Unkind?
Darkly funny stuff, some would say. Others call it too edgy, given the shooting in a Florida high school in April.
Those allegedly duped include politicians from both sides of the aisle and an Independent (Bernie Sanders). The infamous list features Sarah Palin, Dick Cheney and Howard Dean.
Journalist Ted Koppel admitted being duped. Judge Roy Moore also confirmed being the victim of a Cohen prank, which involved a trip to D.C. to receive an award, which turned out to be bogus. Carly Fiorina, the former Hewlett-Packard chief and political candidate, also allegedly was duped, reports based on sources, say.
Two pluses for Cohen and Showtime: Since the targets of these pranks are famous people, the incidents resulted in news stories, which have led to social media buzz. Clips from videos featuring Cohen pranking politicians about kids using guns and other topics have become popular on social media during the past few weeks.
The other PR plus is that all this content is being repurposed. Early last week Showtime announced Cohen's videos were not random acts of unkindness or humor, depending on your viewpoint. They're part of a 7-week series that debuted last evening (July 15) on the network. It bows in the U.K. tonight.
But is any publicity really good publicity? Judge Moore has threatened litigation against Cohen.
Are Pols' Statements What They Appear to Be?
Far worse, comments the politicians made on camera might be bogus.
A Cohen fan, former House member Joe Walsh, also duped by the lure of an award, told CNN the disguised Cohen had him read lines from cue cards about his support for arming children. "They had me read [from cue cards] about this 4-year-old child in Israel who, when a terrorist entered his classroom, somehow he grabbed the terrorist's gun and held the terrorist at bay. And that was an example of how Israel trains and arms preschool kids on how to use firearms, and boy, shouldn't we do that in America?"
Walsh told CNN as he read the lines, he thought, "Well, this is kind of crazy, but it is Israel and Israel is strong on defense." Props to Walsh for making the media rounds to own being duped (see below).
On the one hand, Cohen's PR effort has been a success: People who've never seen the series are talking about it as a result of earned media and social. That's big-time buzz.
Aside from the political problems Cohen's sort of humor inflames, with the integrity issues PR faces today, is it proper to praise an outcome when the tactics include fooling and embarrassing people and presenting statements as something they perhaps are not?
Seth Arenstein is editor of PR News. Follow him: @skarenstein