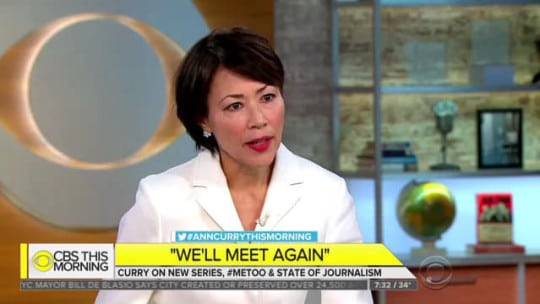 Leave it alone already. It's over. Sorry, but we can't seem to get beyond the Matt Lauer ousting.
Our doctor said she'd detected definite signs of our recovery in the past few weeks. This uptick in our condition, she said, was related to Katie Couric's comments about Lauer: "I had no idea this was going on during my tenure or after I left," she said. "I think I speak for many of my former colleagues when I say this was not the Matt we knew." OK, so Lauer was a master of deception.
A relapse in our condition occurred late last night, though. The culprit was a report we heard that former NBC Today Show star Ann Curry was going to say for the record she wasn't surprised by the Lauer downfall, which occurred Nov. 29, a few days after Thanksgiving.
But what about Katie Couric's statement?
All this got us to thinking: Was the timing of Lauer's firing really a coincidence? Yes, says NBC News, it was merely coincidence that its former star, reportedly paid in excess of $20 million annually, was let go only days after hosting the lucrative tent pole event known as the 2017 Thanksgiving Day Parade.
Officially Lauer was shown the door on the 29th after a female employee charged he'd harassed her during the Sochi Olympics, in 2014. The media giant says the employee came forward Monday, November 27, 2017. NBC contends this was the only complaint brought against Lauer, although it admits his inappropriate behavior continued after the Olympics.
Following the firing, NBC admitted two more female employees came forward the day of Lauer's firing to register complaints. After that, the deluge—more women came forward, articles were written where even more women made charges. An article in the trade Variety was particularly revelatory: sex toys, demands for sexual acts and quizzes of female employees about whom they'd slept with. When did Lauer find time to do his job?
And the Variety article apparently wasn't seat-of-the-pants journalism. Published just one day after Lauer's firing, it was crafted once the publication conducted a "two-month investigation…[consisting of] dozens of interviews with current and former staffers." It seems clear people knew months before Thanksgiving that Lauer's behavior was inappropriate. Unfortunately, those people-in-the-know weren't managers at NBC. Is this possible? Yes. Is it probable that the behavior of an asset being paid $20 million annually was so far off the radar?
The PR Lessons
While there's much to say about Lauer and #MeToo, we'll limit ourselves to the PR lessons. Crisis management 101 says a company in the midst of what could be a crisis should assess the situation; admit something is wrong (if it is); and inform the public how it will change its culture to make certain such incidents don't happen again. NBC hasn't done much of this.
Yes, just after New Year's Day it bumped up Hoda Kotb to Lauer's chair, creating a duo anchor team of females. All's forgotten, right? Maybe, but even Kotb's ascendance was balky. Stories about Kotb's salary, allegedly about one-third of Lauer's, took some of the shine off the announcement.
But more important, if NBC truly wants to move on it must address what seems to be a cultural issue. That was at the center of Curry's remarks today. On the circuit to publicize her new PBS show, Curry reluctantly admitted to CBS This Morning a culture of "verbal sexual harassment" at NBC when she was there. As to the question "Did Matt Lauer abuse his power?" Curry said, "I am not surprised by the allegations."
As PR pros understand, failing to acknowledge a cultural issue can come back to hurt you. Recall that former Wells Fargo CEO John Stumpf also denied there were any issues with his company's culture at the start of the bogus credit card scandal, this despite the fact that 5,300 employees were freshly fired. You remember how well that played on Capitol Hill back in September 2016? Stumpf lost his job and the bank is still fighting the scandal.
And what about Fox News Channel? Yes, it removed founder the late Roger Ailes and star Bill O'Reilly and several other executives and journalists. Yet it has failed to make a clear, public accounting of what occurred and how Fox's culture allowed for such things to happen. Fox's scandal continues.
Listen to BlackRock
Speaking of culture, make sure you look at the Jan. 12 letter to CEOs of Larry Fink, the CEO of BlackRock. Fink expressed something that communicators have known for awhile: Investors want companies to make profits and to do good work socially. Governments, he writes, have dropped the ball in many cases and the private sector needs to step up.
Certainly other CEOs have urged their colleagues to take up social causes. The difference is BlackRock is the world's largest asset manager ($6.3 trillion under management). Will anyone listen?
Follow Seth: @skarenstein