Say you're a PR professional who has the need and means to hire an agency to help execute your communications plan. And your boss expects you to report your program's success on a regular basis. You bring in agency execs to pitch their capabilities—so what do you ask them about measurement and metrics? How can you be sure that the agency you hire can help deliver the right metrics that tie communications all the more closer to the business? PR News spoke with measurement leaders at a variety of agencies to get the answers to these questions, and more.
The good news: effective PR measurement has never been more prevalent than it is today, says Karla Wachter, senior VP at Waggener Edstrom Worldwide. Historically, says Wachter, the PR discipline has been challenged to show the impact of its programs. "Often, measurement stopped at the output level and we assumed impact," she says. "There were a number of barriers that created this dynamic, including cost-effective data acquisition, commitment to measurement objectives that linked back to an organizations business objectives, etc."
Today, things have changed. Thanks mostly to the Web, PR pros have access to mountains of data and the ability to secure the data in a cost effective manner.
The not-so-great news: Agencies and their clients suffer disconnects in working together to achieve optimal measurement success.
"Sometimes you see clients who want a lofty connection to sales and world peace, and the agency promises that," muses Michael Young, senior VP at Access Communications in San Francisco. "Or a client may want measurement of little parts and pieces of campaigns, and the agency complies, but then they are not seeing measurement as a more holistic practice."
There lie the challenges and subsequent goals for agencies and clients in working together for the greater good of PR measurement, says Wachter. They should include:
1) Creating measurable objectives linked to the organization's business objectives.
2) Identifying the relevant data that will inform the most strategic business decisions.
3) Allowing access to both internal and external data required to correlate to business objectives (i.e. PR impact on financial and non-financial objectives).
MEASUREMENT CONTINUUM
The trouble is, measurement means many different things to many different people, says Tim Marklein, practice leader, Technology & Analytics at WCG. One way to get past that is to not look at measurement as an endpoint, but as a continuum that you have to constantly monitor and tweak throughout your PR programs, he says.
Thus, says Marklein, agencies and clients must discuss research that needs to be done, what metrics will be tracked (and how and how often) and how adjustments will be made on the fly.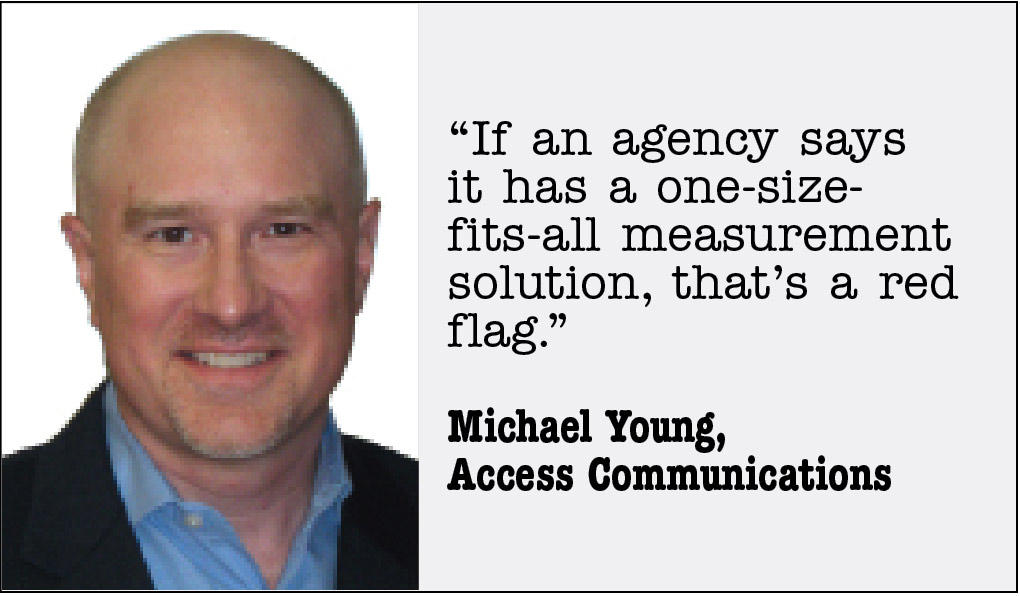 Realistically, not all agencies are built for the measurement game. That's why it's important to vet carefully. "Clients should seek a partner that not only delivers candid insights and evaluation, but one that also seeks to continually innovate its measurement offering," says Natasha Fogel, executive VP, Global Measurement & Analytics at StrategyOne. "Agencies and measurement organizations must provide measurement that is meaningful, timely, relevant and multichannel."
CRITICAL QUESTIONS
Specifically, what should a PR pro be asking an agency about measurement capabilities? Here are three questions from David Rockland, partner and managing director at Ketchum:
• Do you analyze both social and traditional media results? "Look for types of analysis of media results—both social and traditional—that examine quality as well as quantity," says Rockland.
• Are you an advocate for the use of AVE's? While clients will still demand them, agencies must counsel clients on why AVE's should be disregarded.
• Do you have survey research skills (i.e. the ability to take existing surveys and tweak them to make them relevant to PR) and the ability to connect the dots between PR outputs and business outcomes?
Marklein says to dig deep in terms of agency expertise, asking questions like these:
1. Who are your measurement and analytics experts? "The work entails specialized expertise," says Marklein.
2. What do you measure and what do you not measure? "You'll find that one agency does media analysis but doesn't do social media monitoring," says Marklein.
3. Are you offering proprietary measurement tools? Here, Marklein says to beware, because proprietary methodologies and metrics are often hard to grasp. "The agency must be transparent with what goes into it, and the client will need a shorthand version of the measurement to explain to the boss," says Marklein.
GET PROOF
Access' Young says to ask up front for proof of measurement success. "Ask for samples of measurement output that you provide for clients," he says. He does caution, however, that there are no one-size-fits-all solutions. "That's a red flag. Measurement is as varied as an agency's clients," says Young.
One thing is for sure: Measurement capabilities are rapidly improving. "In 2012 we may see increased modeling to better quantify ROI," says Fogel, who also expects more agencies to partner with market research firms to better show outcomes as well as outputs.
Sounds like a good outcome to us.
CONTACT:
Karla Wachter, karlaw@waggeneredstrom.com; Michael Young, mby@accesspr.com; Tim Marklein, tmarklein@wcgworld.com; Natasha Fogel, "natasha.fogel@strategyone.com; David Rockland, david.rockland@ketchum.com.