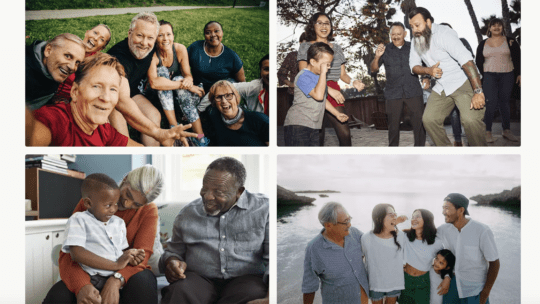 For advertisers and communicators, delivering inclusive messaging is no longer a novel idea. Some agencies now employ diversity, equity and inclusion executives and utilize inclusive language guides, as well as revamped business strategies to reflect wider representation. And nearly every session during Advertising Week New York (Oct. 17-20) mentioned inclusion.
However, several panels addressed often-forgotten parts of DEI, including age and disability. 
The Ageism DEI Gap
Insights from the AARP during the panel, "Why Ageism Must be Part of the DE&I Discussion," offered perspectives on successful messaging and imagery. 
The AARP uses images as its primary medium of communication with its audience. Because of this, several years ago it collaborated with Getty Images on the Disrupt Aging Collection—aiming at a more accurate portrayal of this demographic. 
"Images have the power to represent a time in life…[and 50-plus is] full of vibrancy and intergenerational relationships," said AARP's CCMO Martha Boudreau. "[Yet], so often [media] imagery of 50-plus is of dependence, isolation, confusion with technology…and bad fashion!"
On top of that, misrepresenting and ignoring the 50-plus demographic can be bad for business. AARP's Longevity Economy research shows that 56 cents of every dollar spent in the U.S. is from a 50-plus adult community. And 30% of the workforce is 50-plus. 
"When you get imagery wrong—you can lose a customer," said Kirsten Flanik, president/CEO, BBDO NY. "Fifteen years ago [all you saw for] images of women in the workplace were them eating salad at desk [which is no longer a common standard]."
Flanik said research shows the tropes below can illicit negative reactions from intended consumers: 
isolation 
two people walking on a beach holding hands (multigenerational families and later retirement allow little time for this)
50-plus people engaging in extreme sports 
50-plus people fumbling with technology (50-year-olds and older have had mobile tech for years)
Overcoming Ageism in Communication
From a communication perspective, Flanik and Boudreau believe combatting ageism starts with the creative core. 
"Have a multigenerational workforce in agency and corporate," Flanik says. "The bias in the ad industry is that you need to be young, vibrant, hip and hanging out at the right places. [Lacking older employees is a] detriment...because multigenerational teams can bring different perspectives."
The AARP also offered "Reframing Aging Through Images," a new study with the Frameworks Institute analyzing how images in media and advertising shape perceptions of aging and the 50+ demographic. The study proved that activating positive concepts of aging may help de-stigmatize growing older for everyone, and also provided recommendations on preferred imagery and language. 
Boudreau said combating ageism is not only the right thing to do for the advertising industry, but for everyone.
"No one would stand by and listen to racist, inappropriate comments for anyone of a diverse nature…no one would use humor to make fun of people in diverse categories, so don't stand for it when it comes to aging."
Seen and Heard
A diversity theme also carried the session "Feeling Seen: How Brands Can Excel at Inclusive Storytelling." In short, people want to see themselves in messaging.
Jon Evans, chief customer officer, System1, cited research showcasing the importance of diverse advertising. The company had people rate ads on a scale of one to five stars, based on how much feeling it evoked.
For example, one-star ads meant the viewer felt nothing. Viewers were quite moved watching five-star ads.
Evans said only one of every 100 ads received five stars. However, 24% of ads displaying diverse representation always received five stars. 
"Diverse ads, which celebrate lives and stories, unite audiences no matter what their background," Evans said. And it's important not to just wait for cultural holidays. These ads "work all year round," he added.
In addition, Evans urged audience members to "avoid the sadness trap," especially when customers see themselves in messaging. "Ads [resonate more] when they talk about achievements instead of struggles," he said.
Nicole Schuman is senior editor for PRNEWS. Follow her @buffalogal