In this month's column, the two organizations we examine, Rio Tinto, the global mining conglomerate, and Liberty University, the world's largest Christian university, couldn't be more different.
Both have sophisticated communication protocols designed, no doubt, to avoid the sort of scandals that are currently plaguing both of them. The problem is, in 2020, those strategies don't work.
Rio Tinto and Cultural Heritage
As a mining company, Rio Tinto has had its share of crises over the years. As a result, it has a large and sophisticated communication shop. That hasn't stopped protestors and opponents from calling for severe penalties for the company's recent destruction of a 45,000-year-old Australian Aboriginal heritage site so it could expand an iron ore mine.
The company's immediate response was straight out of a best practices crisis plan. It apologized profusely, conducted an internal investigation and posted results to its site. Then, it announced that it was knocking off $5 million from the bonuses of bosses who were implicated in the report.
But in 2020, indigenous culture is more important than mining, and income inequality is why people are marching in the streets. So while the reduction in bonuses sounded good in the press release, negative reaction was swift.
The Australian Center for Corporate Responsibility (ACCR), Australia's leading shareholder advocacy group, accused Rio Tinto of shifting blame to the indigenous groups and called the fines completely inadequate: "Tens of thousands of years of cultural significance get blown up and all that goes to show for it is $7million of lost remuneration," ACCR's James Fitzgerald said.
In fact, the report revealed that the company prioritized gaining approval to conduct mining activities on the land over protecting Aboriginal heritage. Where Rio Tinto may feel the most pain is from institutional investors and the governments that regulate its operations.
Rio Tinto's CEO is going hat-in-hand, trying to explain the company's actions to its largest investors. The problem is that no institutional investor who cares about Environmental, Social, Governance (ESG) scores is going to touch the stock. In addition, Australian regulators already are considering rule changes because it is clear the public backlash isn't going away.
Liberty University and Jerry Falwell, Jr.
In terms of acting in a manner inconsistent with your brand, Ellen DeGeneres may be a pro (see PRN, August 2020), but she has nothing on Jerry Falwell, Jr.
A former real estate tycoon, Falwell is president of Liberty University, an institution famous (or infamous) for its strict (some say outdated) rules dictating how its 86,000 students can dress and what music and video games they are allowed to play—never mind prohibiting personal relationships they are allowed to have on campus.
The rules are detailed—along with penalties—in a binding document called "The Liberty Way." Any deviation can result in demerits, fines or expulsion.
The strict honor code prohibits students—and to a lesser extent, faculty and staff—from enjoying or using everything from freedom of speech to drugs, alcohol, and pretty much anything not rated PG. This makes the current revelations about its president problematic.
In an era where people are in the streets calling BS on politicians, the police and anyone else with authority and power, discovering hypocrisy in a powerful conservative religious figure is particularly enticing.
Giancarlo Granda, a former hotel pool boy turned business partner, decided it was time to spill the beans about his long-term affair with the Falwells to Reuters and Politico.
It was hardly the first scandal that revealed just how hypocritical Liberty's leader is. When Granda's story broke, Falwell already was on suspension owing to Instagram posts showing himself and a young woman. Both had their pants unzipped. Hardly Liberty Way regulation dress.
It wasn't the first brouhaha for Falwell. Earlier in the summer, he raised the temperature of students, faculty and alumni with a racial scandal on social that nearly cost him his job.
A big part of the Liberty Way deals with ethics and honesty. This is why insiders have questioned Falwell's leadership for years, resulting in leaks to Politico and others about the school's financial arrangements.
In an ongoing investigation, Politico found a senior Liberty official willing to say: "We're not a school; we're a real estate hedge fund...We're not educating; we're buying real estate every year and taking students' money to do it." On the other hand, some credit Falwell with rescuing Liberty financially. This might have figured into Liberty's crisis response.
Another Politico exposé revealed connections between an LGBT-friendly Miami flophouse conveniently located next to a liquor store. And, of course, there are photos of Falwell indulging in exactly the sort of behavior students are prohibited from enjoying–going to clubs, dancing, drinking. Convicted Trump former attorney Michael Cohen also appears to have stories—and pictures—of Falwell's misbehavior.
Since the Granda scandal broke, Liberty, normally tightly controlled with its messages, seems to be in chaos.
First, we heard that Falwell resigned, then he was back; now it's clear that he was forced out. Nonetheless, Falwell's wife Becki has taken to the talk show circuit to defend the family honor, ensuring that the story stays in the headlines. Somewhere we're sure Granda is negotiating movie rights.
If it had happened in another year, to any other high-profile family, it might not be a front-page story in every paper. But given the nature of the affair, Falwell's ties to President Trump and the overwhelming hypocrisy of the situation, it's a crisis that won't be going away anytime soon.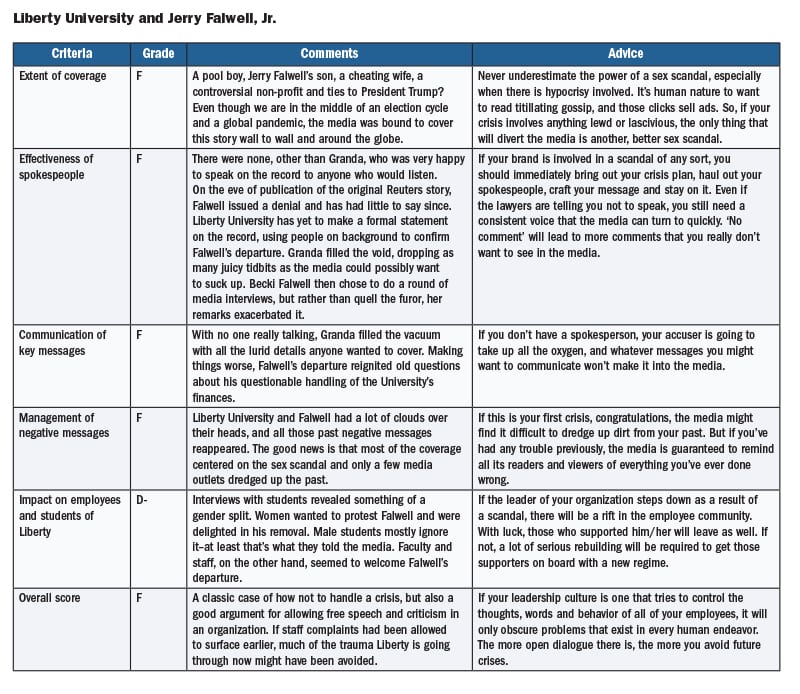 CONTACT: [email protected]