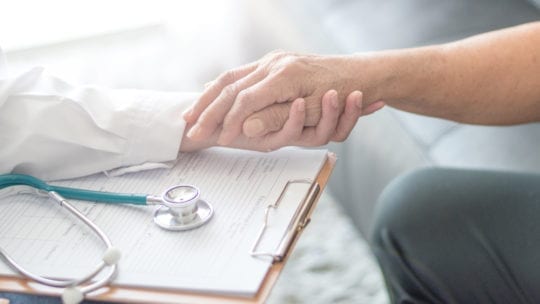 Jennifer Mieres is a physician, one of the leading experts on the subject of cardiovascular health for women. Dr. Mieres also is chief diversity & inclusion officer at Northwell Health, which is NY State's largest healthcare provider and private employer (68,000 employees).
Yet those titles represent just some of her portfolio. She's also an academic. In addition, she is a Fellow of the American Heart Association (AHA), the American College of Cardiology (ACC) and the American Society of Nuclear Cardiology (ASNC). She was ASNC's first female president.
A Communicator in All But Name
But as we get to know the keynoter for PRNEWS' Top Women in Healthcare Communications awards luncheon (July 16, The Yale Club), we're also highly impressed with her as a communicator.
It makes sense that Mieres would hone her communications skills. She considers them integral to being a healthcare practitioner.
"My lofty goal is to get people to truly be a partner in their health and wellness." As a result, it's vital that the public have a base of knowledge about healthcare. This requires communication.
Like a good communicator, Mieres bolsters her argument ably. One of the pillars of former Surgeon General Regina Benjamin's National Prevention Strategy is that people be empowered to make informed, healthy choices. Accordingly, healthcare professionals need to provide the public with tools and information to make good choices. Mieres takes this responsibility seriously. She has spent much of her career arming the public with sound medical information.
The savvy communicator knows listening is critical. Similarly, Mieres believes healthcare professionals need to learn about their patients through "frank conversations." If the aim is to change lifestyles, "we need to know their desires and goals." And their level of scientific understanding.
Hence, when we ask her what she'd do with an unlimited budget, Mieres says she'd take a listening tour. "I'd go around the country" listening to people so we can "co-create" a plan for a healthier lifestyle.
Documentary Producer
A multi-platform communicator, Mieres is in the midst of working on her fourth healthcare documentary. She's also a frequent guest on national and local TV and radio. Similarly, she is a go-to source for Woman'sDay magazine's healthcare articles.
Like the communicator she is, Mieres understands the importance of clarity. As such, she says her role with the media is to distill scientific information "into language that everyone can understand."
Her role communicating scientific knowledge with clarity extends to publishing. She co-authored a book about heart health for women. Mieres and her co-author, Dr. Stacey Rosen, insisted on using plain language. The book, she says, offers simple suggestions about how women can improve their cardiovascular health.
A Communications Hurdle
Discussing communications and medicine, Mieres is sanguine about the amount of information in the public domain. "Due to the internet and social media, people have access to much more healthcare information than they had even ten years ago," she says.
In addition, she credits Dr. Mehmet Oz and Oprah Winfrey. His early shows "let people tell their stories." Sounding like a full-time communicator, Mieres extols the power of storytelling.
Oz's early shows, she says, "brought a lot of medical subjects into the open." Also, she says, Oz helped "de-mystify a lot of medical issues." As a result, more patients "have conversations with their healthcare team."
Education
Mieres is frustrated, however. Despite the amount of scientific and medical information available to the public, "the level of health ignorance is abundant." Above all, the doctor's prescription involves education, which is part of the communicator's toolkit.
The "big disconnect is that we haven't laid the foundation" to teach people to use the abundance of information available to them. "Many years ago, health and wellness used to be part of the core curriculum." She'd like to see health and wellness re-introduced, "starting in kindergarten."
Certainly, some schools require students to take health courses. Yet those classes are not comprehensive, she argues. "They mostly cover the reproductive system." Having students learn about health throughout their academic careers would give them "a true understanding of diseases and what their role in controlling diseases needs to be."
Getting Out the Message
Her frustration centers on her medical specialty, cardiology. Heart disease is the country's leading cause of death in men and women. Yet a path to better cardiac health is within reach. Ironically, a main hurdle is related to communications.
"We have lots of very good technology" in cardiology, she says. "What we have to focus on is the hardest piece"...communicating that 80 percent of heart disease can be prevented with lifestyle changes and medicine. "Getting that message out there, to get people to listen to it," has proven "really difficult."
With proper education, she says, people would be aware that simple lifestyle changes could benefit their health. Regular movement, such as walking or dancing, are places to start, she says. Clearly, Mieres won't rest until her important messages are communicated throughout the country.
Seth Arenstein is editor of PR News.  Follow him: @skarenstein
For information about attending the July 16, 2019 Top Women in Healthcare Communications luncheon, please click here.