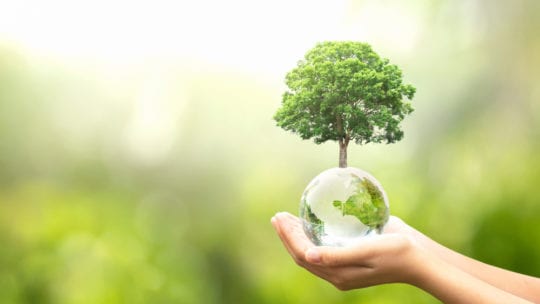 [Editor's Note: We hope you've seen our Earth Day 2020 coverage. Perhaps you wanted to know more about Marilyn Laurie, the legendary PR pro who helped conceive the celebration for the first Earth Day in NY City. Through the generous help of the Museum of PR, we asked Dick Martin, who succeeded Marilyn at AT&T, how it started. His lightly edited responses to our questions are below.]
PRNEWS: Please tell us about Marilyn's involvement in founding Earth Day.
Dick Martin: Marilyn didn't co-found Earth Day itself. That honor goes to Wisconsin Senator Gaylord Nelson, who thought of it, and Denis Hayes, who got groups across the country to implement it in their towns. But Marilyn was one of the five young people who organized the first Earth Day celebration in New York City, by far the largest event.
Stay at Home Mom
Here's how it happened: Marilyn was a stay-at-home mom with two young daughters in 1969. Protests against the Vietnam War and racial inequality shook the country. Although she loved her daughters, Marilyn felt the world was passing her by. She was thumbing through the Village Voice when, among the ads for go-go dancers, she saw a small ad. It was seeking volunteers to help organize the first Earth Day.
Her alma mater, Barnard College, was the site of the first meeting. It was almost ten years to the day after she graduated. Somehow it seemed like a calling. She had worried about the effect of air pollution on her children's health. Until that moment, though, it hadn't occurred to Marilyn she could do anything about
First Meeting
So, she told her husband Bob, "Watch the kids," and trotted to the subway. The first meeting, in Lehman Auditorium, was fairly chaotic, but she kept going back. She soon found herself one of the five leaders of the Environmental Action Coalition, organized to stage the first Earth Day in New York City, in 1970.
When the others found out she had been an English major, they put her in charge of communications. This is how she found herself on a stage with Paul Newman on her left and NYC Mayor John Lindsay on her right, or as she later said, "A pair of very blue eyes on either side of me."
PRNEWS: How do you think Marilyn would want people to think about Earth Day 2020?
Martin: I don't have to speculate. Here's what she said toward the end of her AT&T career (she retired in 1998):
"As I look back to 1970, when I was much younger and less apt to look at more than one side of an issue, I can't find one sorry prediction that has not happened. Oil spills, pesticide scares, trash piling up in urban and rural communities and washing up on beaches around the world, smog beyond reasonable tolerance, toxic waste leaks, the disappearance of magnificent species of land and aquatic life, climate change—what were once called 'scare tactics' are common contemporary news."
Recent Reversals
So, she knew there was a lot left to do. Recent reversals of environmental laws and regulations would have disappointed her. Incidentally, momentum from the first Earth Day helped put many of these regulations and laws on the books.
Even after a 27-year career in PR, Marilyn thought of herself as an environmentalist first. She only took a job at AT&T because she was given the opportunity to get its 1 million employees interested in recycling.
A Bridge
The programs she started continue to this day. In fact, one of the main reasons she rose through the ranks of AT&T, becoming the first woman on the company's executive policy committee in 1987, was because she saw her job as being a bridge between the company and the real world.
As the company's general counseled told me, "Marilyn had a bigger idea of public policy than those of us in the law department. To her, the public, not legislatures, made public policy. And she considered it her job to make sure we understood what the public demanded of us, even when we weren't particularly interested in hearing it."
That, to me, is public relations at its best.