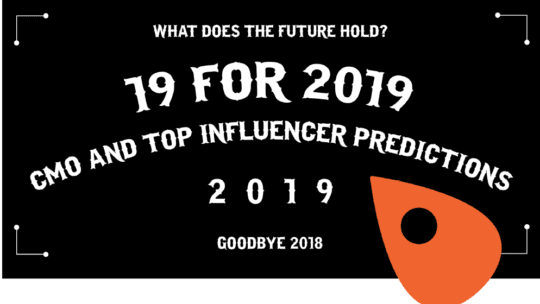 'Tis the season for listicles. With every holiday party or cup of eggnog poured comes a treasure trove of lists recapping significant marketing and communications developments from the last year, along with predictions for 2019.
Among them, Boston-based agency Pan Communications has shared a roundup of what 19 notable CMOs and influencers are expecting for their fields in 2019.
Here are some of the list's top takeaways:
The customer service experience will become more crucial for marketers to humanize their brand
"Marketing will focus less on promotion, propaganda and persuasion and more on customer experience, culture and contribution to the business," says Michael Brenner, CEO of Marketing Insiders and Part-Time CMO of Concurred. He adds that successful marketers can balance expectations with the C-suite, pushing back on tactical requests to create more content and campaigns while "creating content that helps buyers on their journey to solve a problem."
Alicia Tillman, CMO of SAP, adds that if 2018 was about brands discovering their purpose, 2019 will be about turning that purpose into action. "Accountability will be the defining characteristic of successful ownership of brand purpose in the year ahead," she says.
Other CMOs stressed that 2019 will see an increased emphasis on brand trust, the need for storytelling in order to influence buyers, and a more people-friendly approach to marketing.
Brands with big ideas will have a competitive advantage
Bestselling author Carla Johnson says that while  marketers have spent much of 2018 nailing technology and getting their metrics into place, 2019 should be an opportunity to apply those metrics to new ideas around how to connect with customers and prospects, how to recruit talent, and how to simplify doing business with clients. "[E]very great idea needs support inside a company before it can make it outside," she says.
CloudBees VP of marketing Andre Pino adds that continuous marketing is meeting a continuous economy. "The economy is moving to a more continuous model where everyone is instantly connected, business is constantly changing and improving, and where automation creates a near seamless flow between ideas and capabilities," he said.
Keeping up with digital means acknowledging new security risks on the horizon
Kimberly A. Whitler, a UVA professor at the Darden School of Business and Forbes contributor, predicts that providing a multi-industry experience is the key to CMO mobility in 2019.
"It used to be that, to have a successful career, marketers largely stayed in maybe one or two verticals," she says. "The future C-level marketer will bounce from industry to industry, accumulating knowledge that can help build more valuable--and portable--expertise and a richer network that can be leveraged to solve business challenges."
Among those challenges, notes Alex Binder, Mimecast SVP of Global Marketing, is the need for marketing leaders to demystify security for clients. "[I]t's our job to inform customers and potential customers about today's risks and help them understand the respective implications," he says. "Overly technical jargon doesn't cut it — there's a need for short, easily-digestible and relatable content that highlights security issues."
To the same point, Carol Meyers, CMO at Rapid7 says GDPR and the California Consumer Privacy Act of 2018 (that goes into effect in 2020) should give marketing leaders a renewed interest and stake in companies' security policies and execution. "Now," she says, "marketers are keen to ensure the vendors they do business with are GDPR compliant and want the same assurances from their own company."
Check out the whole list here.