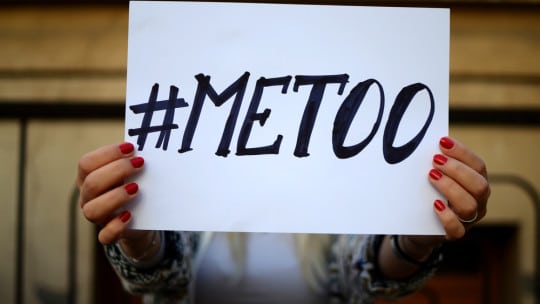 Actress Alyssa Milano took to Twitter on Oct. 15 to revitalize a movement that shows support for victims of sexual harassment and assault.
In the eight days since her tweet, the #MeToo movement has brought to light sexual harassment and assault in many industries—entertainment, sports and politics, among others—and there seems to be no end in sight.
In the first 24 hours alone, Milano's message was retweeted more than 17,000 times according to Mashable, and the #MeToo hashtag was used 109,451 times, according to social analytics firm Crimson Hexagon. The movement spread to Facebook as well, with more than 12 million posts, comments and reactions in less than 24 hours, by 4.7 million users around the world, CBS News reports.
Given the prevalence of sexual assault and harassment, it's hard to know which industries or companies will be affected next or if any will remain untouched. Here is a brief rundown of the industries and most high-profile cases spotlighted by #MeToo so far.
Entertainment
The allegations of sexual harassment against Harvey Weinstein, first reported by the New York Times on Oct. 4, continued to grow as more actresses came forward. That story, and the hashtag it inspired, put the entire entertainment industry under a microscope, expanding far beyond Weinstein himself. The LA Times reported on Sunday that 38 women have come forward with allegations against director James Toback, growing a connected movement under #jamestoback.
Sports
The sports industry was brought into the viral movement Oct. 18 when two-time Olympic medalist McKayla Maroney used #MeToo to share her story of assault by Larry Nassar, the former team physician for USA Gymnastics. Nassar is currently incarcerated with 22 counts of first-degree criminal sexual conduct involving at least seven victims, with multiple other lawsuits totaling 95 victims.
Public Transportation
The #MeToo movement has also put a negative spotlight on public transportation, with so many of the victims being harassed and assaulted on public buses, trains and subways. Although transit agencies have taken steps to minimize these incidents, their effectiveness is limited. On the D.C. Metro transit system, for instance, one man has been arrested more than 20 times for indecent exposure, and yet the system can't permanently ban him or anyone else from using the trains, the Washington Post reports.
Politics
Yesterday, Meet the Press reported that four U.S. senators are coming forward to share their #MeToo stories as well, bringing the movement into the political and academic spheres. Elizabeth Warren (D-Mass.), Claire McCaskill (D-Mo.), Mazie Hirono (D-Hawaii) and Heidi Heitkamp (D-N.D.) recounted the moments when they were victimized throughout their careers, as legislators and, in Warren's case, as a law professor.
The #MeToo movement was originally started 10 years ago by activist Tarana Burke, who was inspired after learning the heartbreaking story of another victim of sexual assault. Burke told CNN that she was felt trapped and unable to help the girl who shared her story and she couldn't even bring herself to whisper "me too."
Burke started the movement to bring the issue to light and to show this young girl and other victims that they are not alone.
"On one side, it's a bold declarative statement that 'I'm not ashamed' and 'I'm not alone.' On the other side, it's a statement from survivor to survivor that says 'I see you, I hear you, I understand you and I'm here for you or I get it,'" Burke told CNN.
Connect with Samantha: @samantha_c_wood