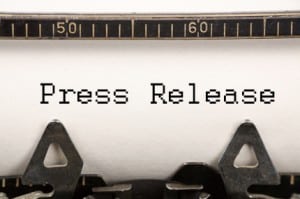 As social channels grow it may be easy for PR pros to lull themselves into thinking that that press release has lost its luster.
Yet despite the ongoing proliferation in digital-media channels, press releases have not gone out of style.
If anything, the "bite-size" nature of digital content has puts a growing premium on well-written press releases.
With that in mind, we thought we would revisit a few tips for PR execs to follow when writing press releases:
1. Put on a journalist's hat: The press releases that will get the most traction from journalists are written in classic, journalistic style. Start the release with a strong (non-sales-y) lead that answers some of the basic questions of your message such as who, what, when, where and how, and go from there.
2. Lose the superlatives: Using lofty terms—"leading" being one of the main culprits—is still a chronic problem in press releases. "Solution" is another term that's used frequently and gives reporters and editors pause; better to use vernacular that doesn't draw attention to itself and/or cause the ire of media reps, but, rather, demonstrates that you're familiar with the intricacies of the market.
3. Include some salient quotes: Not just comments from your CEO or CFO on the benefits of the product and/or service that you are writing about but quotes from partners, suppliers and customers who can testify on how the product and/or service can help consumers or, if it's a B2B company, how the information in the release can help someone do his or her job better.
4. Keep it short: Reporters and editors are notoriously time-poor, so when writing press releases choose your words very carefully. Be somewhat surgical with quotes. Ditto for any statistics and/or metrics that you may want to put into the release to help substantiate your message.
5. Put your contact information in a prominent place: It's a no-brainer to put your name and contact information in a prominent place on the news release, such as the upper left hand-corner, but we're often amazed at how many press releases lack this basic information. Without it, you're not only telling the reporter to lose the release but it also suggests you may be hiding from something.
What do you think of our tips? What are we missing?
Follow Matthew Schwartz: @mpsjourno1