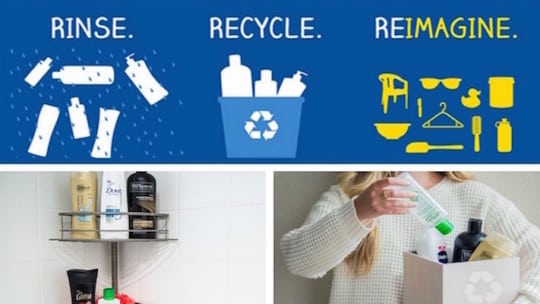 There are many things that Americans do to protect the environment. But Unilever discovered much of the country didn't realize the impact of not recycling empty soap and hair product bottles. Unilever teamed up with Weber Shandwick to help educate and inspire people around the nation to recycle their bathroom "empties" while at the same time driving brand awareness.
The partners developed the "Rinse. Recycle. Repeat." campaign that sought to remind people to recycle their bathroom products by showing them examples of what their empties can become once recycled. With a social-first mentality and a clever insertion of the Unilever brand, news was strategically seeded among brand fans, select influencers and top-tier media—each opportunity driving awareness for the company and its commitment to building a sustainable, bright future.
But to achieve real behavioral change, the partners knew mere recognition of the campaign by consumers wasn't going to work. They needed to get their audience actively involved in the campaign. Here are three ways Unilever and Weber Shandwick engaged their audience to inspire a change in behavior.
Create a simple call to action
A good call to action is undoubtedly the backbone of any campaign seeking to influence behavior, but in many cases, simplicity will ultimately drive its success. Weber Shandwick and Unilever launched #ReimagineThat to encourage fans to submit their own reimaginings of their bathroom empties. This proved to be a low-commitment activity that users flocked to on social media.
Offer rewards
To drive engagement with the #ReimagineThat campaign, the partners also instituted a related contest that offered prizes to the brand's fans. By rewarding positive behavior and keeping the messaging aligned with products, Unilever and Weber Shandwick were able to build branded, eco-friendly habits that extended beyond the limits of the campaign.
Keep it positive
Often behavioral change is needed to address some kind of deficiency or reverse negative habits. But people don't want to hear about all the bad that negative behavior causes. This is especially true of environmental issues. Unilever's fans didn't need to see more pictures of overstuffed landfills and environmental damage. By focusing on the positive impacts a fan's recycling efforts have on the world, the partners were able to draw in a larger audience. Inspiration, not desperation, was the key to this campaign's success.
In the end, these tactics worked for Unilever and Weber Shandwick. The campaign earned almost 65,000 engagements on user-generated content, garnered more than 1,600 unique sweepstakes submissions and totaled more than 113 million impressions across the social media spectrum. The partners were also recognized for their leading work with a 2016 PR News CSR Award.
Follow Mark: @MarkRenfree