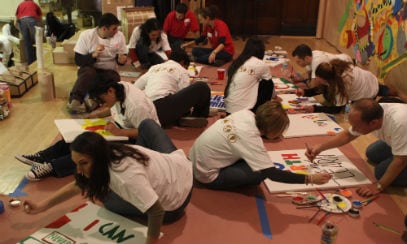 Winner: Cone Communications
Boston-based Cone Communications specializes in corporate social responsibility, or CSR, which in the last several years has been creeping toward the top of the consumer agenda. A majority of Americans not only hold companies accountable for the results of their CSR commitments, they want to hear more about the specific impacts of such initiatives and are prepared to reward and punish accordingly, according to the 2012 Cone Communications Social Return Trend Tracker. Indeed, 86% of Americans said that they are more likely to trust a company that reports its CSR results and 40% of Americans said that they will not purchase a company's products or services if CSR results are not communicated, the report said.
With these trends in mind, Cone created Corporate Social Return, which is designed to provide companies with both a roadmap and measurable results for their CSR programs. Corporate Social Return provides clients with CSR campaigns that make meaningful contributions to critical issues and go beyond purpose to deliver legitimate returns.
Take Green Mountains Coffee Roasters' "Great Coffee, Good Vibes, Pass it On" campaign. The campaign to raise awareness about the Fair Trade Movement reached 228 million consumers. But it also helped hundreds of small-scale farmers earn extra income and invest in community development such as healthcare and education, and generated sales of Fair Trade Certified Green Mountain Coffee by 67%.
Cone is applying Corporate Social Return to all of its CSR clients, using four factors to drive the campaigns: relevant, results-oriented, resonate and reliable.  Cone helped Hilton Worldwide return the company to its legacy as a leader in the hospitality industry, as well as a good corporate citizen. Via Hilton's Travel With Purpose CSR platform, Cone and Hilton engaged guests and raised funds through cause marketing, and rallied team member volunteerism. More than 66 million media impressions were garnered for Hilton Worldwide's Global Week of Service.
Honorable Mentions:
Finn Partners
Havas PR
Hunter PR
Inkhouse Media + Marketing
MSLGROUP
RF|Binder